Hazardous waste requires special handling, and it's not a job that just anyone can do. That's why hazardous waste professionals take The Certified Hazardous Materials Manager (CHMM)  test. Those who take the exam, which is administered by the Institute of Hazardous Materials Management, show they have the skills and knowledge to work in this challenging field. What's on the exam? What are the best study materials you can buy? This guide answers those questions.
What are the eligibility requirements for taking the exam?
Candidates must at least have a bachelor's degree from an accredited institution and at least four years of experience in a hazardous materials management job.
What are the fees associated with the Certified Hazardous Materials Manager exam?
Candidates pay a $185 application fee and a $375 exam fee.
How long is the test time?
Candidates have three hours to finish the exam.
When should I arrive at the test center?
Make sure to arrive at least 15 minutes before your scheduled test time.
How many questions are on the Certified Hazardous Materials Manager exam?
There are 140 questions on this computer-based test.
Where can I take the test?
Candidates take the test at a private test center hired by the Institute of Hazardous Materials Management. These private centers have hundreds of locations across the United States, and you can check the site nearest to you on the IHMM website.
What's on the Certified Hazardous Materials Manager exam?
Candidates will face questions in a dozen content areas. They are:
Planning for Materials with Hazards includes operation analysis, assessment for pollution prevention, and developing permits, SOPS, and program plans.
Shipping and Transporting Materials with Hazards includes ensuring proper packaging, labeling, marking, vehicle placarding, and shipment tracking.
Storing Materials with Hazards includes determining requirements for storage location, storage containers, proper storage labeling, and proper signage.
Facility Operations Involving Materials with Hazards includes determining administrative and engineering controls, and hazard communication implementation.
Disposition of Materials with Hazards includes meeting disposition requirements and managing treatment, treatment and disposal, releases, emissions, and discharges.
Record Keeping and Reporting involves reporting and recordkeeping requirements and ensuring the requirements are met.
Training Personnel includes competencies for hazardous materials, providing training to address the competencies, and conducting drills and exercises.
Response and Recovery includes identifying incidents and responses and understanding the accident's cause.
Remediation includes site investigation and designing and implementing remediation.
Management Systems includes records review, interacting with regulators, and monitoring new regulations.
Environmental Studies includes site assessment performance and conducting assessments in environmental impact.
Health and Safety includes job hazard analysis and hazardous operations plan development; identifying health hazards related to hazardous substances; developing site safety, release prevention and emergency response plans; and determining requirements for personal protective equipment.
What identification should I bring on test day?
Please bring your authorization to test form and two forms of identification. At one piece of identification must be a government-issued ID, like a passport or driver's license.
Can I bring my mobile phone into the test room?
No. No personal items, including electronic devices, books, or papers of any kind, are allowed in the test room.
When will I receive my test results?
Candidates will receive test results at the test center after they've finished the exam.
How is the exam scored?
The exam is scored on a scale of 0 to 1,000. The passing scaled score is 700.
What if I fail the Certified Hazardous Materials Manager exam? Can I retake it?
Yes. Candidates may retake the exam when they feel they are ready. Any candidate who takes the test three times and has not passed must wait one year to retake the exam.
I need some outstanding study materials. Which one should I get?
The study materials by Mometrix will help you prepare for the Certified Hazardous Materials Manager exam. Our study guide will show you how to tackle questions that tend to trip up test takers. Not only that, the guide contains a comprehensive review of topics that include toxic hazardous material, solid waste, vapor pressure, upper explosive limit, proper marking, manifest, and dozens of other topics. Our flashcards are the perfect study companion and show you how to solve difficult questions fast. These are the materials you need to help you prepare.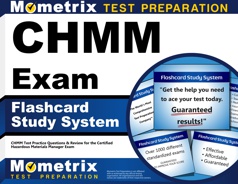 CHMM Flashcards. Proven CHMM test flashcards raise your score on the CHMM test. Guaranteed.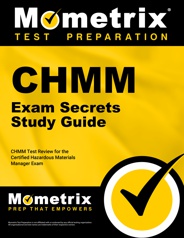 Prepare with our CHMM Study Guide and Practice Questions. Print or eBook. Guaranteed to raise your score. Get started today!