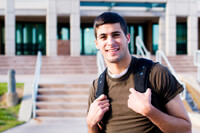 How do you decide which graduate school to attend? You need, of course, to consider schools that offer the program in which you are interested. However, other factors also affect your decision. For example, you need to consider whether you want to attend a large or small school and whether you want to live in a large or small city. You also need to consider the professors at each school: there may be a particular professor with whom you want to work. The articles in this section tell you how to choose the best graduate school for you. They will help you identify schools with the best programs in your field of study and evaluate each program's offerings. They will also guide you through campus visits and even investigate graduate school alternatives such as distance learning.
Where Should You Apply?
You've made the big decision to invest your time and money in graduate school. Now how do you decide to which schools you want to apply? Of course, you can study catalogs and websites, but there is a lot more information out there to help you make your decision.
Check with professional associations
Every profession has one or more professional associations. You may already be a member of some associations, which often offer reduced rates to students. These associations may have information about the best graduate programs in the field. If nothing else, you can talk to members of the association to see which schools they attended.
Talk to your professors
Talk to the professors in your undergraduate program. Ask them where they went to grad school and whether they feel it was a good choice. Ask them which schools have the best reputation in the field.
Talk to other people in the field
Find other professionals who are working in your field and ask them which schools they recommend.
Read professional journals
Another way to find out which schools and which professors are well known in your field is to read professional journals, especially the biographies of professionals whose articles have been published. See from which schools these professionals come and add those schools to your list.
Go online
You can get a lot of general information about a school by visiting its website, including a list of faculty members, lists of class offerings, teacher-student ratio, and admission requirements. However, much more information about schools is available on the Internet. Mailing lists and discussion groups, social networking sites, and blogs can put you in touch with students and alumni who can give you inside details about a specific graduate program.
Check the program cost and funding options
What is the cost of tuition, books, and living expenses? Are grants and stipends available, or will you be relying on student loans?
Once you have developed a list of possible schools, you will want to visit their campuses and then begin the application process.
Finding the Right Graduate Program for You
Maybe you know exactly which graduate school you want to attend. But if not, it can be overwhelming to narrow down your choices. Below are some tips to help you choose the right graduate program for you.
Location
Are you open to moving to another part of the country? If you have a family, are they willing to move? Where will your spouse best be able to find a job or attend school? Will you be happy living in this area for two or more years?
If you aren't interested in moving, which local schools offer you the most convenient commute?
Program and specialization
Is there a program that is well-known for the degree you are interested in obtaining? Attending a school with an excellent reputation can help you land a better job in the future.
Ranking
How does the school rank in lists such as those published each year by US News and World Report? An institution's rank can indicate the quality of education students receive, the resources available to students, the faculty-student ratio, etc. Therefore, before you give too much weight to rankings, find out on what criteria the ranking is based.
Faculty
Are the faculty members well-known and respected in the field? Do their students enjoy working with them? Talk to former and current students during your campus visits and in online forums to get a sense of what the professors are like.
Cost
How much is tuition at the school? What amount of financial aid does the school offer? Will you be able to get an assistantship, fellowship, and scholarships?
These are just a few items to consider as you choose your graduate school. What else can you add to this list?
Evaluating Grad Schools: A Preliminary Checklist
Careful research will help you find the right school. As you look through university catalogs, check out websites, and visit campuses, make your own personal checklist to evaluate each graduate program. Below are some options you might want to add to your checklist.
Atmosphere of the campus
Do you prefer a formal or informal campus? Big city or small town? Thousands or hundreds of students? Liberal or conservative? You're going to be immersing yourself in the campus for a couple of years, so it should someplace where you feel safe and comfortable.
Atmosphere of the department
Do the professors and students seem to get along and enjoy working together? Or is there a sense of competition among members of the department?
Assistantships
Are teaching or research assistantships available? What are the requirements for getting an assistantship? How many hours of work does the assistantship require, and what kind of stipend or tuition remission does it offer?
Additional resources
How many computer labs are available for students? What kind of equipment do the research labs have? How well-stocked is the library? Is money available for attending conferences?
Prestige of program and faculty
Is the program well-known in the field? Are the faculty members respected for their research and contributions? How does the program rank in listings such as the one published by US News and World Report?
Academic requirements
What grade point average (GPA) and Graduate Record Examination (GRE) numbers does the graduate program require? What additional academic requirements do you need to be accepted into the program?
Attrition rate
How many students who begin the graduate program finish it with a degree in hand?
Add your own requirements to this checklist. Be sure to fill out your checklist for each school as you visit the campus or talk to students and faculty. Otherwise, you may forget what you discover about a particular program.
A Visit to the Campus
A campus visit is another ideal way to meet students in a graduate program. A campus visit also allows you to meet faculty members, check out resources such as the library and laboratory space, and see whether the campus feels comfortable to you. If the grad school is in another part of the country, a campus visit also gives you the chance to check out the community and see whether you will enjoy living there for several years. To make your campus visit successful, follow these tips.
Schedule wisely
If you are an undergraduate, the easiest time for you to schedule a campus visit is during a break from your own school. However, chances are that the campus you are visiting will also be on a break then. You will probably not get to meet all of the professors you want to meet, and there will be few, if any, students around with whom you can talk. It is far better to arrange to take some time away from your own classes to bring about a more fruitful campus visit.
Schedule in advance
Although you can always walk around a campus and visit its buildings, a full campus visit should be scheduled at least a few weeks in advance. Some programs offer visits only at specific times and have rigid schedules for the day of your visit. Other programs are more relaxed and allow you to create your own schedule. Either way, you need to set up appointments and arrange your visit well in advance so professors and students will be available to meet with you and show you around.
Allow plenty of time
You should plan for your campus visit to last for at least a full day. This will give you enough time to meet the professors, talk to some students, tour the campus, check out potential housing, inspect research and laboratory facilities, and visit the town or city where the school is located.
Make a good impression
Your campus visit gives school personnel an opportunity to evaluate you just as much as you are evaluating them. They may be deciding whether you will be a good fit for the program and whether to offer such perks such as a stipend, fellowship, or teaching or research position. So make sure you dress professionally and arrive on time. You should also be able to display some knowledge about the program gleaned from your earlier research.
Ask questions
Show that you are a detail-oriented person by asking questions about the program, the campus, and the community. Where do most of the grad students live? Is on-campus housing available? If you have a family, are there employment opportunities for your spouse and child care for your children? What kind of job placement, counseling, and medical services are available to students? What kind of internship options might be available for you?
After your campus visit, you should walk away with a fairly clear idea of whether that graduate program is the right place for you.
Investigating Online Distance Learning
Distance or online learning is available even for grad school. Schools offer courses over the Internet and through audio conferencing, videoconferencing, satellite locations, and more. Distance learning can be very appealing because you can fit your coursework around your regular schedule. On the other hand, you need to make sure that you choose the right program and that you have the right personality for distance learning. How do you decide whether distance learning is the right choice for you? Ask yourself these questions:
Do you have the focus, discipline, and self-motivation to complete your coursework on time without close supervision?
Will you be able to set aside regular and uninterrupted time for studying?
Will your friends, family, and co-workers respect your need for studying and understand that you really are in grad school?
Do you have the hardware (computer system, Internet connection, audio or video equipment, etc) and software needed for your course?
Will you be able to connect personally and professionally with your professors and fellow students if you only know them through the online world?
If the distance learning program requires 'face time' on campus once in a while, will you have the money and time for these visits?
If you do decide on a distance learning program, make sure you choose a program that is fully accredited and will be respected by potential employers. Also look for programs that enhance student communication through such benefits as online communities and discussion boards. Such options can provide the social interaction and exchange of ideas that can be a critical part of the learning process.
Evaluating Online Degree Programs
The popularity of online degree programs continues to rise, as more and more students seek to improve their education with a flexible program. Studying online offers several advantages, such as reducing scheduling conflicts and geographic limitations. However, online degrees are not always as credible to potential employers as traditional degrees are. Why? Well, first of all, employers must guard against hiring anyone who has a degree from a diploma mill. In addition, they may worry that online courses aren't as rigorous as those in a traditional classroom.
Check the accreditation
If you are considering an online college degree, you must choose a credible school so you don't waste your time and money on a degree that is worthless. Your first step must be to look for an online school that is accredited by regional or national accreditation agencies. To be accredited, a school must meet standards for student achievement, curriculum, faculty, services, and academic support for students. And don't just take the school's word that it is accredited. Write to the US Department of Education or the Council for Higher Education Accreditation (CHEA) to verify a school's accreditation.
Depending on your area of study, you may also need to look for additional levels of accreditation specific to the field. For example, a law school should be accredited by the American Bar Association, a psychology program should be accredited by the American Psychological Association, and a library science program should be accredited by the American Library Association.
Talk to potential employers
Talk to people in the industry to find out their points of view about online degrees. Do you sense that online degrees are well-respected, or do they carry a stigma? If you are already working but hope your graduate degree will lead to a raise or a higher position, ask your employer whether an online degree will be accepted. The most popular areas for online graduate programs are in fields such as business, engineering, education, law, health sciences, and information technology, so you may find these fields more accepting of online degrees.
Check rankings
Institutions such as professional organizations and US News and World Reportpublish rankings of colleges and universities. These rankings may be based on criteria such as faculty resources, starting salaries for graduates, and peer assessment. By checking such lists of rankings, you can choose a school that has a solid reputation in your industry.
Beyond Accreditation: What Else to Look for in an Online University
You know that if you want to take online classes toward your graduate degree, you need to choose an accredited program. But what else should you look for in an online university?
Proven success
How long has the online program been around? You want a program that has been around long enough to get the glitches worked out in its technology and procedures.
Also find out how many students have graduated from the program. If possible, talk with some current and former students to get an idea of how happy they are with the program.
Technical support
Any time you are dealing with technology, there is a possibility for crashes, bugs, and glitches. Make sure the school offers technical support seven days a week in case you need help.
Technical capabilities
Do you have the technology to participate fully in the classes? Some online universities use more sophisticated technologies such as video streaming and conferencing. If your computer setup can't handle these more advanced technologies, stick to programs that rely on e-mail, bulletin boards, and websites.
Face time
Some online programs require some on-campus attendance. If you choose a program that has this requirement, make sure you will be able to go to the campus when required.
Faculty
Have the instructors of online classes been trained in how to conduct and facilitate an online classroom? Will you be assigned an advisor who will help you choose classes and obtain your degree?
Financing
Does the school offer any financial aid for online classes? Does your employer offer tuition reimbursement for online classes?
Graduation schedule
How long will it take you to earn your degree? Look over the school's curriculum outline. Is the graduation timeline similar to that of a traditional school?
Class size
How many students are in a class? The ideal online school has small classes but a large overall enrollment. With small classes, each student gets more attention, but a large enrollment indicates the school is operating successfully.