The Certified Hospice and Palliative Nurse (CHPN) Exam is offered to experienced hospice and palliative registered nurses. The exam was designed by the Hospice and Palliative Credentialing Center (HPCC), and it tests a candidate's ability to successfully provide hospice and palliative care to patients.
Online CHPN Prep Course
If you want to be fully prepared, Mometrix offers an online CHPN Prep Course. The course is designed to provide you with any and every resource you might want while studying. The CHPN Course includes:
Review Lessons Covering Every Topic
600+ CHPN Practice Questions
More than 350 Digital Flashcards
Money-back Guarantee
Free Mobile Access
and More!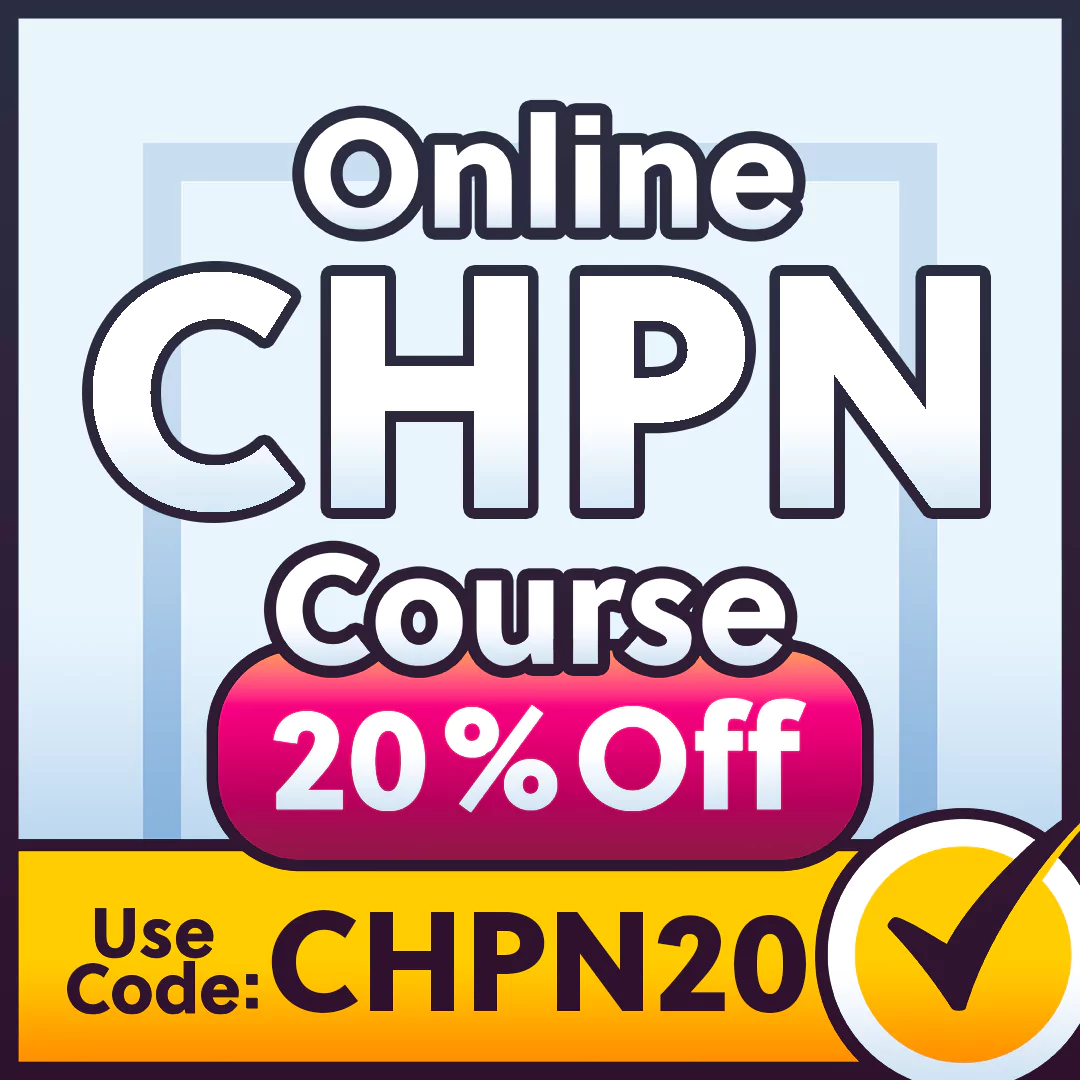 The CHPN Prep Course is designed to help any learner get everything they need to prepare for their CHPN exam. Click below to check it out!
Q
Who is eligible to take the CHPN exam?
A
Those who are eligible to take the CHPN exam must:
Have a current, unrestricted registered nurse license in either the United States, its territories, or the equivalent in Canada.
Have hospice and palliative nursing practice of at least 500 hours in the most recent 12 months prior to applying for the exam, OR
1,000 hours in the most recent 24 months (2 years), prior to applying for the exam.
Q
How much does it cost to take the CHPN exam?
A
The cost of the CHPN is $415 for initial certification and $295 for HPNA members. For recertification, the cost is $380, and $260 for HPNA members.
Q
How do I register for the exam?
A
You may register for the exam online or by mail. To register online visit www.goHPCC.org. You will be walked step-by-step through the instructions. Before you register, be sure to have your HPNA membership number, your choice of test assessment center, and your credit card information. Acceptable credit cards include Visa, American Express, Mastercard, and Discover. Paper applications are processed within two weeks. If you are eligible to test, a confirmation notice will be sent out with further information regarding how to schedule your exam date. If registering by mail make sure that the application is filled out completely, otherwise it will be returned.
Q
Where will I be taking the CHPN exam?
A
The exam is given at one of PSI's 300 testing facilities throughout the United States. The exam is given Monday through Friday on a first-come, first serve basis. Saturday appointments are based on availability. To find a PSI testing facility nearest you visit goamp.com.
Q
How many questions are on the exam?
A
The CHPN exam consists of 150 questions. 135 of these questions are scored while 15 of them are not scored. You will have 3 hours to complete the exam.
Q
What will the CHPN exam test me on?
A
The exam requires a candidate to be able to recall, analyze and apply what they've learned. The recall portion of the exam consists of 22% of the exam, the analysis portion consists of 18% of the exam, and the application portion consists of 60% of the exam. You will be tested on topics including:
Patient Care: Life-Limiting Conditions in Adult Patients (18%)

This section includes subtopics that includes but is not limited to identifying and responding to indicators of imminent death; and identifying specific patterns of progression, complications, and treatment for certain conditions.

Patient Care: Pain Management (22%)

The pain management section includes subtopics including but not limited to assessing and responding to complications; performing comprehensive assessment of pain; identifying types of pain or pain syndromes; and pharmacological interventions.

Patient Care: Symptom Management (24%)

This section focuses on topics such as neurological conditions; cardiovascular conditions; respiratory conditions; gastrointestinal conditions; and musculoskeletal conditions.

Patient and Family Care, Education, and Advocacy (24%)

This section includes topics including but not limited to goal of care; resource management; grief and loss; caregiver support; education; and advocacy.

Practice Issues (12%)

The practice issues section deals with care coordination; collaboration; professional development; and scope, standards, and guidelines.
Q
What if I need to reschedule my appointment?
A
If you need to reschedule your exam appointment you may do so once without being charged by calling PSI or by going online to the AMP website. You must reschedule at least two business days before you are scheduled to sit for the exam. Keep in mind that all rescheduled appointments must be within the same testing window.
Q
If I withdraw from my test date, will I get a refund of the money I paid?
A
Unfortunately, no. Any money that you paid in fees for the exam will not be refunded. If you fail to schedule your exam within the given testing window, if you fail to reschedule an appointment two business days before your scheduled exam, or if you fail to show up for your exam then you forfeit all fees.
Q
What will test day be like?
A
On the day of your exam be sure to arrive early. You will need to have two forms of identification with you. One needs to be current, government-issued, and contain your photograph. Personal items such as bags, cellphones, and study material will not be allowed inside the testing center, keys and your wallet are the exceptions. Before the actual exam, you will be able to take a practice exam on the computer to familiarize yourself with the exam format.
Q
When will I receive my scores?
A
You will receive your pass/fail score immediately upon completion of the exam. Your score is measured on a scale of 0 to 99. The minimum score you need to get in order to pass is a 75.
Q
What happens if I fail the exam? Can I take it again?
A
Yes. If you failed the exam, you may take it again during the next testing window.
Q
How do I go about renewing my certification?
A
In order to renew your certification, you must submit the Certified Hospice and Palliative Nurse Hospice and Palliative Accrual for Recertification. This requires fulfilling practice hour requirements and by obtaining points through different professional development activities.
Q
How can I study for the Certified Hospice and Palliative Nurse exam?
A
If obtaining your Certified Hospice and Palliative Nurse credential is on your to-do list, you are going to need a reliable study resource. The study guide and flashcards from Mometrix Test Preparation are designed with the test taker in mind. They are both packed with easy to understand content that is perfect for either in-depth or on the go studying. If passing your exam with flying colors is one of your goals, then utilizing the study system provided by Mometrix is the perfect option for you.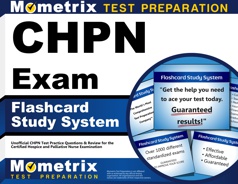 CHPN Flashcards. Proven CHPN test flashcards raise your score on the CHPN test. Guaranteed.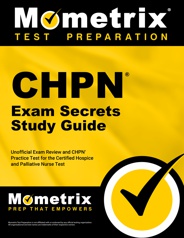 Prepare with our CHPN Study Guide and Practice Questions. Print or eBook. Guaranteed to raise your score. Get started today!