The Construction Health and Safety Technician (CHST) Exam is a certification examination written by the Council on Certification of Health, Environmental, and Safety Technologists (CCHEST) and administered by Pearson VUE that is designed to determine if an individual has the knowledge necessary to work as a health and safety specialist in a construction setting.
This exam assesses the individual's understanding of managing a construction site, training individuals in OSHA regulations, maintaining a safe work environment through worksite audits, and ethical and legal concerns involved with the health and safety of workers at a worksite. This certification is not required in order to work as a health and safety specialist, but it can be an extremely effective resume-builder for individuals seeking careers in construction health and safety or individuals seeking advancement in a construction-related career.
CHST Exam Study Guide with Practice Questions
The exam consists of 200 multiple-choice questions that are related to the following four areas:
Program Management (Approximately 58 questions)
Worksite Auditing (Approximately 80 questions)
Training (Approximately 54 questions)
Professional Responsibility (Approximately 8 questions)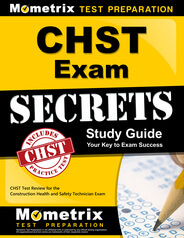 Prepare with our CHST Study Guide and Practice Questions. Print or eBook. Guaranteed to raise your score. Get started today!
The exam-taker will have four hours to complete the exam and the exam-taker will receive a pass/fail grade based on whether or not he or she makes enough correct responses to meet or exceed the threshold set by the CCHEST. The exact number of correct responses required to pass the exam varies depending on the specific version of the exam that the individual receives and the difficulty of each question included on that version of the exam.
In order to register for the CHST Exam, the individual seeking certification must have a high school diploma and must be an OSHA authorized instructor or have 40 hours of classroom training related to construction health and safety or three years of construction experience. The individual will also be eligible to take the exam without meeting these requirements if the individual has an associate's degree or higher related to a health and safety field or has completed 9 semester hours of college courses related to a health and safety field.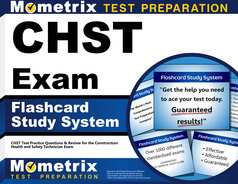 CHST Flashcards. Proven CHST test flashcards raise your score on the CHST test. Guaranteed.
If the individual meets one of these requirements and has at least one year of work experience in a construction work environment, he or she may register for the exam by submitting an application to CCHEST and, if the application is accepted, he or she will receive instructions on how to schedule a testing date with Pearson VUE. The current registration fee for the exam is $355, which includes both the application fee and the examination fee.
CHST Study Guide
Explore our free CHST review provided by Mometrix. Check out our premium CHST study guide to take your studying to the next level. If you benefit from these materials, just click the link below! To compliment our CHST book, we also offer extensive flashcards for even more CHST exam prep help. We hope you enjoy our products! Your purchase helps us make more great, free CHST certification content for test-takers just like yourself.
CHST FAQ
Q
What is the CHST certification?
A
The CHST certification is given to individuals who meet all requirements outline by the BCSP.
Q
How much does it cost to take the CHST?
A
To take the CHST, you must pay a non-refundable application fee of $140 and a testing fee of $300.
Q
How do you become CHST certified?
A
To become CHST certified, you must work part-time or full-time in construction safety with 3 years of experience, and must pass the CHST exam.
Q
Is the CHST exam all multiple choice?
A
Yes, the CHST consists of 200 multiple-choice questions.
Q
How long do you have to take the CHST?
A
Test-takers are given 4 hours to complete the exam.
Q
How do you sign up for the CHST exam?
Q
What is a passing score for the CHST exam?
A
A passing score for the CHST exam is 108 out of 175.
Q
How many questions are on the CHST?
A
There are 200 questions on the CHST.