In order to become certified as an industrial hygienist, one must pass the Certified Industrial Hygienist (CIH) exam developed by the American Board of Industrial Hygiene. This exam is designed to ensure that certified individuals will have reached a high level of training and professional achievement.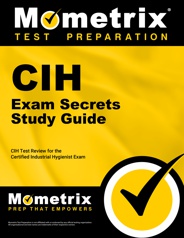 Prepare with our CIH Study Guide and Practice Questions. Print or eBook. Guaranteed to raise your score. Get started today!
The exam consists of 250 multiple-choice questions, to be answered during two 3 1/2 hour sessions. The questions on the examination will come from the following eight content domains: basic sciences; occupational disease, illness, injury, and surveillance; health hazards; work environments; program management principles; evaluation practices; hazard controls; and community stressors.
The examination is completed on a computer, and students will be provided with a list of basic equations, the precise content of which can be found at the American Board of Industrial Hygiene website. Candidates will receive a verdict of pass or fail immediately after the examination.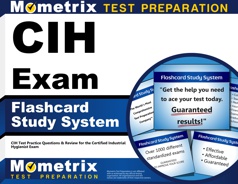 CIH Flashcards. Proven CIH test flashcards raise your score on the CIH test. Guaranteed.
Scoring is based on the number of questions answered correctly, with no penalty for incorrect answers. For this reason, candidates are advised to make the best guess on those questions they do not know for certain. The CIH exam is offered in the spring between April 1 and May 31 and then the fall between October 1 and November 30.
The exam is administered by Prometric at locations around the country; prospective candidates should register at the American Board of Industrial Hygiene website.