There's no doubt you encounter American Literature in its many forms throughout your high school career. Its prevalence in university courses should serve as no surprise as a result. While you're effectively moving on to a new chapter in your life by starting college, the experience won't be entirely different from what you encountered in high school. You will still have a number of required courses to take to graduate, some of which won't necessarily be related to your intended major.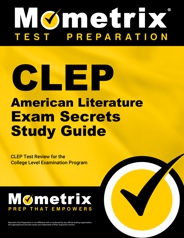 CLEP Study Guide Prepare with our CLEP Study Guide and Practice Questions. Print or eBook. Guaranteed to raise your score. Get started today!
American Literature is a common course for general educational requirements and—for the most part—you can't get out of them. If you didn't manage to take or score well in a related AP course in high school, you only have one other option for skipping over this course and getting to the subjects you really care about. This option is the CLEP American Literature exam.
The CLEP exam encompasses several subjects, all of which enable you to get out of taking required general education courses, should you earn a passing score. The CLEP American Literature exam will assess your knowledge of its respective subject and whether you can safely skip over this course without harming your academic progress.
Because of its ties to the full-fledged course, the CLEP exam covers much of the same materials. You will have to know how to explicate literature, as well as the themes, authors, and history tied to American literature. To help you familiarize yourself with the exam, Mometrix Test Preparation has put together a CLEP American Literature practice test.
We've conducted careful research to ensure our practice test is as accurate to the real thing as possible, allowing you to gain a full understanding of how the exam works and what you may need to brush up on to earn the highest score you can.
All 100 CLEP American Literature questions on the exam will cover the following relevant topics:
Contemporary Period (at an appearance rate of 15 percent)
Colonial and Early National Period (15 percent)
Modernist Period (25 percent)
Period of Realism and Naturalism (20 percent)
Romantic Period (25 percent)
This resource is 100 percent free, so you can use it as much as you need. Feel free to pair it with our companion CLEP American Literature study guide for best results!
Additional Free CLEP Practice Tests