Now that you're in college, the courses you come across may be a bit more abstract than what you typically studied in high school. For instance, a common first-year course is Humanities, the study of art in all of its forms. Part of the goals of any college is to turn its student body into productive and well-rounded members of society. This is why they push you to study a wide breadth of subjects, whether they're directly related to your major or not.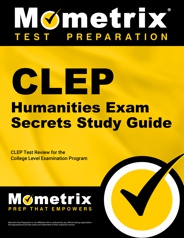 CLEP Study Guide Prepare with our CLEP Study Guide and Practice Questions. Print or eBook. Guaranteed to raise your score. Get started today!
Of course, no one should have to take a course they don't want to. This is why the CLEP Humanities exam exists, as well as other tests like it. If you have no interest in taking a Humanities course in college, you can take the CLEP exam to test out of it, earning the credits you need for graduation as well as the free time to take another class you're more interested in.
At Mometrix Test Preparation, we have the tools you need to study well and earn an excellent score. We have composed a CLEP Humanities practice test. Designed with accuracy and thoroughness in mind, this resource is meant to help you familiarize yourself with the full CLEP Humanities exam's content and formatting.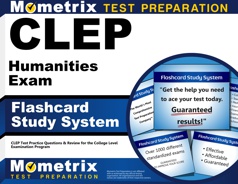 CLEP Flashcards CLEP Flashcards. Proven CLEP test flashcards raise your score on the CLEP test. Guaranteed.
All 140 CLEP Humanities practice questions will pertain to subjects you'll find on the real exam come exam day:
50 percent of exam questions will cover the Arts (Performing and Visual Arts)
the other 50 percent pertains to Literature (Nonfiction, Drama, Fiction, and Poetry).
Feel free to use this practice exam to evaluate your strengths and weaknesses for this particular subject. You can also use our companion CLEP Humanities study guide to brush up on areas you aren't as familiar with, bettering your chances of earning the score you want.
Additional Free CLEP Practice Tests