If you're planning on majoring in Psychology in college, you're probably well-versed in the subject's basics. That's why, for some, the idea of taking a first-year Introductory Psychology course can be dissatisfying. If you're already deeply familiar with the material an Introductory Psychology course has to offer and chafe at the idea of taking it, whether through having taken a similar class before or studying it on your own, know you aren't stuck taking this course if you don't want to.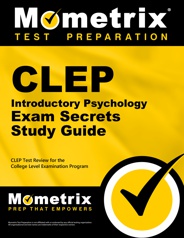 CLEP Study Guide Prepare with our CLEP Study Guide and Practice Questions. Print or eBook. Guaranteed to raise your score. Get started today!
You have the option to skip it entirely, thanks to the CLEP Introductory Psychology exam. This test, and others like it, are designed to allow you to earn the credits you need toward graduation without spending time taking the full course. All it takes is earning a passing score.
If you want to do well on this exam, the right preparation will help. To help, the Mometrix Test Preparation team has put together a comprehensive CLEP Introductory Psychology practice test to help you study as thoroughly as possible.
Designed through careful research, our mock exam features 95 CLEP Introductory Psychology practice questions, which pertain to all of the numerous subjects found on the real exam and would have otherwise studied in the first-year Introductory Psychology course.
You can expect to be assessed on the following subjects, appearance rates included: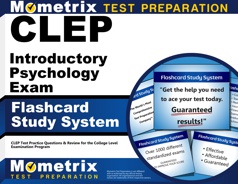 CLEP Flashcards CLEP Flashcards. Proven CLEP test flashcards raise your score on the CLEP test. Guaranteed.
Statistics, Tests, and Measurement (3 to 4 percent)
History, Approaches, Methods (8 to 9 percent)
Social Psychology (7 to 8 percent)
Biological Bases of Behavior (8 to 9 percent)
Treatment of Psychological Disorders (7 to 8 percent)
Sensation and Perception (7 to 8 percent)
Psychological Disorders and Health (8 to 9 percent)
States of Consciousness (5 to 6 percent)
Personality (7 to 8 percent)
Learning (10 to 11 percent)
Developmental Psychology (8 to 9 percent)
Motivation and Emotion (7 to 8 percent)
Cognition (8 to 9 percent)
Should you find you need extra help as you study, feel free to turn to our companion CLEP Introductory Psychology study guide. Good luck!
Additional Free CLEP Practice Tests