While the name may sound abstract, Social Sciences and History cover much of the same subjects you learned about in high school—which is why the possibility of having to take this class for your first year of college may come as a surprise. Whether you're an aspiring history major or just trying to knock out your general education requirements, you may not want to tread ground you've already covered.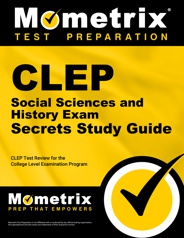 CLEP Study Guide Prepare with our CLEP Study Guide and Practice Questions. Print or eBook. Guaranteed to raise your score. Get started today!
The College Board understands this all too common dilemma, which is why they offer the CLEP Social Sciences and History exam.
It is designed with your convenience in mind, granting you the ability to skip this first-year course while still gaining the college credits you need to graduate.
To help you prepare, our team at Mometrix Test Preparation has put together a CLEP Social Sciences and History practice test. It is meant to give you an accurate idea of how the real CLEP exam works, down to the content.
Like the real test, our practice test features 120 CLEP Social Sciences and History practice questions total: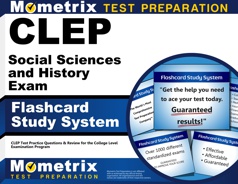 CLEP Flashcards CLEP Flashcards. Proven CLEP test flashcards raise your score on the CLEP test. Guaranteed.
20 percent of them cover Government/Political Science
40 percent of Social Science and History questions deal with History

13 to 15 percent of them relating to World History
another 13 to 15 percent to Western Civilization
a final 13 to 15 percent to United States History

20 percent of questions pertain to Geography
20 percent of the test's questions concern Geography.
You will have to be well-versed in all of these subjects to score well on this exam.
Due to the complexity of this subject, it would be worth your while to study as thoroughly as possible. For best results we recommend using this resource alongside our CLEP Social Sciences and History study guide. Good luck!
Additional Free CLEP Practice Tests