The College Level Examination Program (CLEP) can be the college student's best friend. It can save the expense, the time, and a lot of the frustration of taking courses with that the student is entirely familiar, whether through previous study or experience. CLEP exams are offered in 34 categories and touch upon many subject areas.
Before taking a CLEP, the student must determine which exams his or her school will accept. Some colleges accept a wide variety of CLEP exams, while others are very limited in their acceptance. As a rule, CLEP exams are focused on the type of introductory courses that students are required to take in their first and second years of undergraduate study.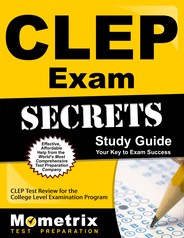 Prepare with our CLEP Study Guide and Practice Questions. Print or eBook. Guaranteed to raise your score. Get started today!
Introductory courses favored for CLEP examinations are in five general areas:
Literature and composition
Foreign languages
History and social sciences
Science and math
Business
The corresponding courses within the college or university the student attends may have different titles, but they will generally consist of basic- or intermediate-level courses. For example, foreign language requirements may be discharged through the Spanish, German, or French levels 1 and 2 CLEP exams.
Similarly, a fundamental understanding of American and European literature, combined with good writing skills, will permit a student to successfully complete the CLEP in those subject areas. CLEP exams are consistent with college courses of the same name: American Literature, English Composition, Humanities, and so forth.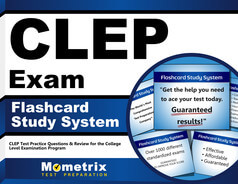 CLEP Flashcards. Proven CLEP test flashcards raise your score on the CLEP test. Guaranteed.
A list of acceptable CLEP exams can be obtained from the college before challenging the course and registering for the CLEP. It is well worth it for a student to take the CLEP courses whenever possible. The cost of a typical CLEP exam is $85, whereas the cost of tuition and fees for the corresponding course can easily be ten times as much.
The number of credits the student receives for successful completion of a CLEP in any subject area is generally the same as would be granted had the course been taken in the conventional way. Most CLEP exams are 90 minutes in length and, except for the writing exams, are composed of multiple-choice questions.
Remember that the more you practice by taking some CLEP practice tests, the better you will be prepared.