Description
A Clinical Nurse Specialist in Gerontology (GCNS) is an advanced nursing practitioner who participates in the care of aging patients. This specialty is concerned with all aspects of care for patients in later life, including both preventive and rehabilitative treatments and assessment of health care needs.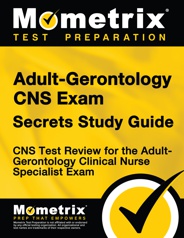 CNS Study Guide Prepare with our CNS Study Guide and Practice Questions. Print or eBook. Guaranteed to raise your score. Get started today!
Credentialing Organization
American Nurses Credentialing Center. You will be required to take a computer-based examination, the fee for which will depend on whether you are a member of the American Nurses Association or the National Association of Clinical Nurse Specialists. Upon passing the examination, you will be given the following credential: GCNS-BC (Gerontological Clinical Nurse Specialist-Board Certified). You'll need to renew your certification after five years. Please apply to the American Nurses Credentialing Center at least three months before your current certificate expires.
Eligibility
Before being certified as a Clinical Nurse Specialist in Gerontology, you'll need:
A current license as a registered nurse (RN). This license should either be issued by an official body in the United States or by a legally recognized licensing body elsewhere.
A degree on at least the Master's level from an educational body accredited by one of these two bodies: the National League for Nursing Accrediting Commission (NLNAC) or the Commission on the Collegiate of Nursing Education (CCNE).
500 or more hours as a clinical nurse specialist in gerontology supervised by faculty as part of your degree program.


CNS Flashcards CNS Flashcards. Proven CNS test flashcards raise your score on the CNS test. Guaranteed.

Course work in the following subjects:

advanced health assessment
advanced pathophysiology
advanced pharmacology
About the Certification Exam
The exam consists of 175 questions divided into seven domains: Basic and Applied Science (8 questions or 5.33 percent of the test), Theories of Aging and Theories Applicable to Age (3 questions or 2 percent of the test), Advanced Clinical Practice (65 questions or 43.33 percent of the test), Organization/Network/Health System (22 questions or 44.37 percent of the test), Research (9 questions or 6 percent of the test), Education (11 questions or 7.33 percent of the test) and Professionalism (32 questions or 21.33 percent of the test). Of these questions, 150 count toward the final score. (The remainder are questions being statistically tested for inclusion in future exams.)
CNS Certification Options