Certified Management Accounts play an important role in business operations. Not only do they have the necessary accounting skills, but they also show they have the management acumen to make business decisions. These professionals have attained the Certified Management Accountant (CMA) Certification from the Institute of Management Accountants. The exam contains two parts — Part I and Part II — and candidates are required to pass both. This guide provides a test overview of Part I and offers excellent study materials to help you prepare.
What are the eligibility requirements to take the Certified Management Accountant exam?
Candidates must hold a bachelor's degree from an accredited institution. If the college or university is not accredited, candidates must have their qualifications reviewed by an independent agency. Candidates in the United States must have received certification as a financial analyst (CFA), internal auditor (CIA), fraud examiner (CFE), or treasury professional (CTP). Candidates also must meet certain work requirements. Please consult the Institute of Management account's website for all the stipulations.
What are the fees associated with the exam?
Candidates pay a $245 to join the Institute of Management Accounts, a $250 CMA Entrance fee, and a $415 exam fee.
How many questions are on the exam?
There are 100 multiple-choice and two essay questions on the test.
What's the exam's test time?
Candidates have three hours to finish the multiple-choice portion of the exam. Candidates have 30 minutes for each essay, for a total of one hour. That makes the entire test time four hours.
What's the multiple-choice section's minimum passing score?
Candidates must get at least half of the questions right (50%) in order to proceed to the essay portion of the test.
Do I have to pass both the multiple-choice and essay portion of the Certified Management Accountant exam?
No. The total score from both sections determines whether a candidate passes the test.
What is the exam's passing score?
The exam has a scaled score of 0 to 500. The passing score is 360.
When can I take the test?
Candidates can take the test during one of three testing windows, in January/February, May/June, and September/October.
Where can I take the test?
A third-party, independent testing center delivers the CMA exam. There are hundreds of test centers across the country.
What's on Part I of the Certified Management Accountant exam?
Part I contains five areas:
External Financial Reporting Decisions topics include financial statements like balance sheets; assets valuation;, and income measurement.
Planning, Budgeting, and Forecasting includes strategic planning issues like long-term goals; budgeting and forecasting; operational, financial and Capital budgets; zero-based budgeting; and cash flow projections.
Performance Management includes standard cost systems; organizational segment reporting; and product, business unit, and customer profitability analysis.
Cost Controls includes actual, normal, and standard costs; job order, process, activity-based, and life-cycle costing; overhead; management of the supply chain; improvement of business processes; constraints and throughput costing theories; and bests practice and cost of quality analysis.
Internal Controls includes structure, policies, and risk; internal auditing; and network and backup controls.
Technology and Analytics includes information systems, data governance, technology-enabled finance transformation, and data analytics.
Will I need to show identification at the test center?
Yes. Candidates must show a government-issued ID, like a driver's license. Candidates without a government ID must show two forms of ID, both with a signature and one with a photo.
Can I bring my own calculator on test day?
Yes. Please consult the rules on calculator types candidates may bring into the test center.
When should I arrive at the test center?
You should arrive at the test center at least 30 minutes before your exam time. Anyone who arrives more than 15 minutes late will not be allowed to take the exam and will lose their exam fees.
When will I receive my score report for the Certified Management Accountant exam?
Candidates will receive the test results about two weeks from the end of the testing window.
What are the best study materials I can get for this exam?
Mometrix has the best study materials you can buy. We use professionals in the education field to put together a comprehensive study guide. Our guide reviews important areas including budgeting, performance measurement, material and sales price variances, earning power, and much more. Our outstanding flashcards are the perfect study tool. You can take them anywhere and grab a few minutes to study. These are the materials that can help you prepare for the Certified Management Account.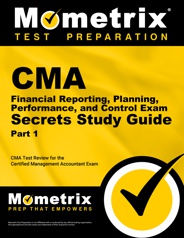 Prepare with our CMA Part 1 Study Guide and Practice Questions. Print or eBook. Guaranteed to raise your score. Get started today!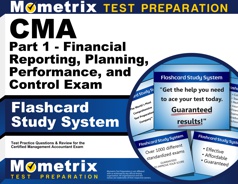 CMA Part 1 Flashcards. Proven CMA test flashcards raise your score on the CMA Part 1 test. Guaranteed.