How do companies improve? How do they exam their processes? That's where a Certified Manager of Quality/Organizational Excellence (CMQ/OE) comes in. These are the professionals who help businesses develop those processes to measure improvement.
But how do they show they're qualified? They take and pass a tough certification exam administered by the American Society for Quality (ASQ). What's on the test? What are the best study materials you can get to help you prepare for the CMQ/OE Exam? This guide has the answers you need.
What are the minimum requirements to take the CMQ/OE exam?
Candidates who sit for this exam must meet certain education and work requirements. Those specifics will be available in your handbook.
What is the exam fee?
American Society for Quality members pay $468. Non-members pay $568. Candidates who retake the exam pay an additional $368 fee.
How many questions are on the exam?
The total number of questions vary.
What's on the test?
The Certified Manager of Quality/Organizational Excellence exam has eight knowledge categories and three constructed-response items. The knowledge categories are an open-book test.
Leadership topics covered include structures of organizations; leadership challenges, including leaders and managers roles and responsibilities; teams, including team building, roles, responsibilities, performance, and evaluation; and the American Society for Quality code of ethics.
Strategic Plan Development and Deployment includes the ability to perform a SWOT analysis; understanding market forces; analyzing and differentiating internal and external stakeholders and their needs; deploying strategic plans; allocating resources, and strategic deployment quality.
Management Elements and Methods topics include management principals, theories, and styles; how human resources support professional development and goal setting; using finance tools in financial management; managing risk; techniques, including verbal and nonverbal; and quality systems, models, and theories.
Quality Management Tools includes tools for basic management, process improvement, and innovation and creativity; process goals and analysis; measurement systems and trend and pattern analysis; quality's cost; and metrics to assess quality, including statistics, sampling, and qualitative assessment.
Customer-focused organizations includes an understanding of internal and external customers; and customer needs, satisfaction, and loyalty.
Supply Chain Management includes how to select and communicate with suppliers and how to assess their performance.
Training and Development includes developing and implanting training plans; identifying training needs; developing training materials and curriculum, and training analysis and improvement.
What is the exam passing score?
Candidates must score 550 out of a possible 750 points to be certified.
Where can I take the CMQ/OE test?
The American Society for Quality used a private testing company to deliver the exam to candidates. There are thousands of test centers across the United States.
When can I take the test?
The test is available during four testing windows throughout the year. Please consult your materials for specific availability.
When will I receive my test scores?
Scores should be available within four days of taking the exam.
What identification will I need on test day?
Please bring one piece of valid, unexpired government ID, like a driver's license or passport.
Can I bring personal items into the test room when I take the CMQ/OE?
No. There are strict guidelines that ban personal items, like mobile phones and all electronics, from the test room. Candidates will place all banned items in a locker at the test center.
What about a calculator? Can I bring one into the test room?
Yes. Certain nonprogrammable, battery operated calculators are permitted. Please remember that candidates have access to an on-screen calculator during the exam.
Should I arrive at the test center early?
Yes. Candidates should arrive about 30 minutes before their test time. Any candidate who arrives late will not be allowed to take the test and will lose all test fees.
This sounds like a tough test, and I need excellent materials to help me prepare. Which ones should I buy?
The test materials from Mometrix are excellent. Our study guide walks candidates through dozens of topics including brainstorming, SWOT analysis, workforce planning, performance appraisals, and organizational effectiveness, just to name a few. Our flashcards are perfect for the busy professional. You take our flashcards anywhere and study when you have just a few minutes to spare. If you want to be well prepared for the Certified Manager of Quality/Organizational Excellence, you'll want these materials.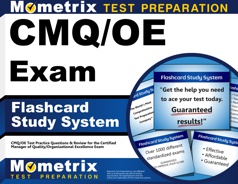 CMQ/OE Flashcards. Proven CMQ/OE test flashcards raise your score on the CMQ/OE test. Guaranteed.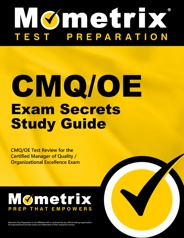 Prepare with our CMQ/OE Study Guide and Practice Questions. Print or eBook. Guaranteed to raise your score. Get started today!