Certified nursing assistants play an important part in our health care system. A certified nursing assistant (CNA) provides personal, hands-on care to patients by helping them with the daily necessities of life. Whether it's helping a patient bathe, dress wounds, or take vital signs like blood pressure, a certified nursing assistant is at the front lines of patient care.
Certified nursing assistant candidates need to train and pass a certification exam. Below, you'll find test information, and something that's equally as valuable — an outstanding study plan to you pass the test certified nursing assistant exam.
What are the requirements to become a certified nursing assistant?
CNA Test Study Guide with Practice Questions
Generally, you must be at least 18-years-old with a high school diploma or equivalent. Certified nursing assistant candidates must take a training program that has been approved by their state. These programs last anywhere from one to three months. That course work will be in a classroom and a clinical setting.
Are testing procedures the same in every state?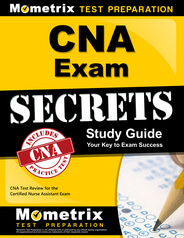 Prepare with our CNA Study Guide and Practice Questions. Print or eBook. Guaranteed to raise your score. Get started today!
No. States also require CNA candidates to accumulate a minimum number of training hours before becoming certified. Some states require the federally mandated minimum of 75 hours of training while others require more than 100 hours.
It's important to check with your state regulatory board and understand the certification requirements. Most states use the National Council Licensure Examination (NCLEX) from the National Nurse Aide Assessment program.
There are fees to take the exam, and your state may require additional fees as well. For example, the NCLEX tests costs $200, and then states could charge a fee in addition to that.
What's on the CNA exam?
That's also up to the states. These are some of the categories candidates might see on the exam: Nutrition; collecting data; the rights of clients; daily living activities; CNA roles and responsibilities; legal and ethical issues; safety; nutrition; and more.
Generally, there are 60 to 100 questions on the test. In addition, candidates, generally, will need to demonstrate nursing skills in front of an evaluator. Those skills could include catheter care, handwashing, feeding, dressing patients, and more.
It's test day? What do I need to know?
You'll need to bring government issued ID but check with our state to see if it has any other identification requirements. You probably won't be able to bring in personal items like heavy coats and electronics like cellphones and tablets into the testing room. You should arrive at the test at least 30 minutes before the start of the exam.
What's the best way for me to prepare for the test?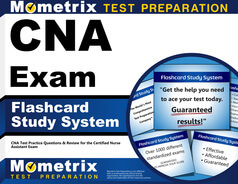 CNA Flashcards. Proven CNA test flashcards raise your score on the CNA test. Guaranteed.
The best way is to take advantage of Mometrix's study tools. Our study guide gives you the most important information about the certified nursing assistant certification exam. We'll help you break down the most complicated problems and provide tips on how to master them.
Our flashcards will help you prepare for several topics, including hygiene, nail care, viral infection and so much more. Our flashcards also make it easy to study on the go. Our study tools offer several advantages that can help you pass this difficult exam.
Online CNA Prep Course
If you want to be fully prepared, Mometrix offers an online Certified Nursing Assistant Prep Course. The course is designed to provide you with any and every resource you might want while studying. The CNA Course includes:
Review Lessons Covering All the Topics
400+ CNA Practice Questions
More than 300 Electronic Flashcards
Money-back Guarantee
Free Mobile Access
and More!
The CNA Prep Course is designed to help any learner get everything they need to prepare for their CNA exam; click below to check it out.
CNA FAQ
Q
How do I get my CNA certification?
A
To get your CNA certification, you must have a high school diploma or GED, as well as nurse assistant training.
Q
How long does it take to become a certified nursing assistant?
A
Generally, certified nursing assistant programs will take between four and 12 weeks, with state-approved programs offering 75 hours of instruction and training.
Q
How much does a CNA make an hour?
A
According to the Bureau of Labor Statistics, the average hourly wage of a CNA is currently $12.22.
Q
What is a CNA certification?
A
Having a CNA certification allows you to become a certified nursing assistant under the supervision of an RN or LPN.
Q
How long is CNA license good for?
A
A CNA license is good for 24 months and is renewable under certain conditions.
A
The CNA exam is a two-section test consisting of a written examination and a clinical skills test.
Q
How much does it cost to take a CNA test?
A
The cost will vary from state to state, but the average cost is anywhere between $80 to $100.
Q
How long do I have to wait to take my state test for CNA?
A
You can take the test immediately after completing your nursing assistant course with at least an 80%.
Q
What score do you have to get to pass the CNA test?
A
This depends on who is giving the test for the state. Generally, you will need a minimum of 80%, but some states require only 70%.
Q
How much is a CNA salary?
A
A CNA salary is generally between $17,800 and 34,600.
Q
What are the duties of a CNA?
A
The main duties of a CNA involve providing basic care to patients, as well as assisting with any daily activities that the patient has trouble with on their own.
A
A CNA is a certified nursing assistant. It is their job to help patients with basic healthcare needs.
Q
What can you do as a CNA in a hospital?
A
As a CNA in a hospital, you will be assisting patients with daily activities such as bathing or eating.
Q
How many hours do you work as a CNA?
A
Generally, a CNA works 40 hours per week.