The Competency & Credentialing Institute offers the CNOR (Certified Nurse Operating Room) exam as way to certify that a nurse is qualified to work in an operating room setting. It shows that a nurse is familiar with the best practices for patient care before, during, and after surgery.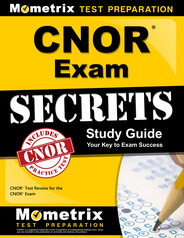 Prepare with our CNOR Study Guide and Practice Questions. Print or eBook. Guaranteed to raise your score. Get started today!
Prerequisites for taking the CNOR include two years and 2,400 hours of professional practice as an operating room nurse. Applicants must also be a licensed registered nurse and be currently working as a nurse in an operating room setting. A bachelor of science degree in nursing is not necessary.
The Competency and Credentialing Institute (CCI) developed the CNOR exam with Prometric, a subsidiary of Educational Testing Service. Prometric offers the computer-based exam throughout the United States and Canada. The test includes 200 multiple-choice questions that must be completed within four hours.
Individual versions of the CNOR exam may vary in difficulty, but every test focuses on the same subject areas.
CNOR Overview
CNOR Exam Overview
Typical topics include pre/postoperative patient assessment and diagnosis, individualized plan of care development and expected outcome identification, management of intraoperative activities, management of intraoperative activities, communication and documentation, infection prevention and control of environment, instrumentation and supplies, emergency situations, and professional accountabilities.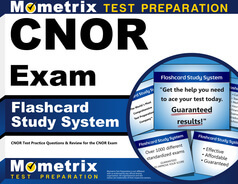 CNOR Flashcards. Proven CNOR test flashcards raise your score on the CNOR test. Guaranteed.
After applying for and scheduling the CNOR test, Prometric sends an authorization to test. Registrants receive an authorization number as well as the web address and telephone number for scheduling the CNOR exam. When taking the exam, registrants must present two forms of identification.
Test-takers should try to answer all questions and leave nothing blank on the CNOR exam. On the computer, users can mark certain questions and return to them later during the exam. People who are not familiar with computerized tests may take a tutorial on a computer before taking the actual exam.
Test results become available immediately after the CNOR exam. Users will be informed immediately if they have passed the test, although they will not receive any scoring details. Additional scoring information will be included with the official, mailed notification that the user passed the CNOR exam.
Persons who fail the exam receive more information when the exams are scored. This includes a look at how close they came to passing and information about what areas they need to improve.
Online CNOR Prep Course
If you want to be fully prepared, Mometrix offers an online CNOR Prep Course. The course is designed to provide you with any and every resource you might want while studying. The Certified Perioperative Nurse Course includes:
Review Lessons Covering All the Topics
1000+ CNOR Practice Questions
More than 500 Electronic Flashcards
Money-back Guarantee
Free Mobile Access
and More!
The CNOR Prep Course is designed to help any learner get everything they need to prepare for their CNOR exam; click below to check it out.
Self-Assessment Module

CNOR FAQ

Q

What is the CNOR certification?

A

The CNOR certification is for perioperative nurses who wish to improve their knowledge and skills.

Q

How much does it cost to take the CNOR?

A

The examination fee for the CNOR is $395, with various additional fees for retakes and extensions.

Q

How do you become CNOR certified?

A

To become CNOR certified, you need to have a current RN license, be working as a perioperative nurse, and have completed a minimum of 2 years and 2,400 hours of experience.

Q

Is the CNOR exam all multiple choice?

Q

How long do you have to take the CNOR?

A

Test-takers are given 3 hours and 45 minutes to complete the CNOR exam.

Q

How do you sign up for the CNOR exam?

Q

What is the pass rate for the CNOR?

A

The pass rate for the CNOR exam is approximately 70%.

Q

What is a passing score for the CNOR exam?

A

The passing score for the CNOR exam is 620.

Q

How many questions are on the CNOR?

A

There are 200 questions on the CNOR exam, 15 of which are unscored.