The Certified Neuroscience Registered Nurse examination, commonly known as the CNRN exam, is a comprehensive and detailed assessment for men and women hoping to enter this challenging field of healthcare. The content of this examination can be divided into five domains.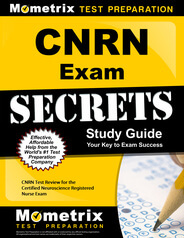 Prepare with our CNRN Study Guide and Practice Questions. Print or eBook. Guaranteed to raise your score. Get started today!
Domain 1, which comprises 54% of the CNRN exam, has to do with physiological issues. Within this domain, the following subjects are covered: activity and self-care, bowel and bladder management, nutrition, comfort promotion, metabolic management, pharmacological management, neurological management, surgical treatment, respiratory monitoring, thermoregulation, and cardiovascular management.
Domain 2, which comprises 21% of the exam, covers complex behavioral issues, including cognitive behavioral therapy and health education.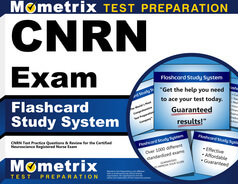 CNRN Flashcards. Proven CNRN test flashcards raise your score on the CNRN test. Guaranteed.
In Domain 3, which makes up 12% of the CNRN exam, quality of life topics are covered, including the following: coping assistance, family, culture, ethics, organ donation, palliative care, and end of life treatment.
Domain 4 covers patient safety. It makes up 8% of the exam and includes questions about the identification of neurological decline, abuse protection and support, environment safety management, infection prevention, and physical/chemical restraint.
Finally, Domain 5, which comprises 5% of the CNRN exam, pertains to health systems management. The questions drawn from this domain relate to collaboration and professional competence.
CNRN Study Guide
Explore our free CNRN review provided by Mometrix. Check out our premium CNRN study guide to take your studying to the next level. If you benefit from these materials, just click the link below! To compliment our CNRN book, we also offer extensive flashcards for even more CNRN exam prep help. We hope you enjoy our products! Your purchase helps us make more great, free CNRN certification content for test-takers just like yourself.