The Certified Neuroscience RN certification provides recognition for a level of excellence in nursing care for the patient with a neurological condition. These Registered Nurses work with neurosurgical patients throughout all phases of their treatment, in spinal cord injury centers, and with patients who suffer from chronic neurological disorders.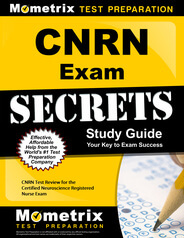 Prepare with our CNRN Study Guide and Practice Questions. Print or eBook. Guaranteed to raise your score. Get started today!
In order to take the Certified Neuroscience RN exam, the applicant must be a licensed Registered Nurse who has worked at least 2 years full-time, or 4,160 hours, in Neuroscience Nursing. This can be as an educator, providing direct patient care to neurological patients, or as an administrator. There are no specific continuing education hour requirements for initial certification.
The Certified Neuroscience RN exam is offered twice a year. There are two days out of the year when a written exam can be completed at limited testing sites across the country. There are two 1-month windows in which a computer-based exam can be taken at various testing sites across the United States. The exam fee is $250 for members of the American Association of Neuroscience Nurses (AANN) or $335 for non-members. The fee to join both the AANN and register for the exam is $348.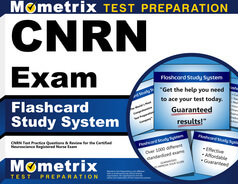 CNRN Flashcards. Proven CNRN test flashcards raise your score on the CNRN test. Guaranteed.
The Certified Neuroscience RN exam consists of 220 questions, of which 20 of these are sample questions to be tested for possible inclusion in future exams. The exam contains questions pertaining to all aspects of the nursing care for the patient with a neurological condition. It covers neurological trauma, neurosurgical issues, rehabilitation for the patient with neurologic compromise, and specific disease processes that affect the neurologic system.
The Certified Neuroscience RN certification is valid for 5 years. At the end of that time period, the RN must have completed at least 2 ½ years of full-time employment as a Neuroscience Nurse, or 4,160 hours. In addition, at least 75 continuing education hours must have been completed. The RN may have also completed at least 14 ½ months of employment as a Neuroscience Nurse, or 2,500 hours, and attained at least 100 continuing education hours. The cost of recertification is $215 for AANN members, $300 for non-members, or $313 to join the AANN and recertify.
CNRN Study Guide
Explore our free CNRN review provided by Mometrix. Check out our premium CNRN study guide to take your studying to the next level. If you benefit from these materials, just click the link below! To compliment our CNRN book, we also offer extensive CNRN flashcards for even more CNRN test prep help. We hope you enjoy our products! Your purchase helps us make more great, free CNRN certification content for test-takers just like yourself.