The American Board for Occupational Health Nurses (ABOHN) offers certification so that individuals may prove their professional knowledge and expertise. According to this board, individuals who receive certification have demonstrated a commitment to professional excellence.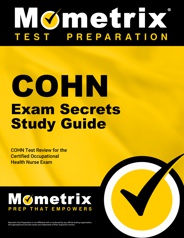 Prepare with our COHN Study Guide and Practice Questions. Print or eBook. Guaranteed to raise your score. Get started today!
The two exams used for certification are a Certified Occupational Health Nurse (COHN) and Certified Occupational Health Nurse Specialist (COHN-S) exams.
In order to sit for these exams, candidates must be licensed as registered nurses, and must have 3,000 hours of occupational health experience in the last five years.
The content of the COHN and COHN-S examinations is created by the board of directors and a professional examination service, and is designed to assess the skills and knowledge needed for practice as an occupational health nurse.
The COHN will assess the candidate's skill as a clinician, coordinator, advisor, and case manager. Additionally, it will cover the following content areas: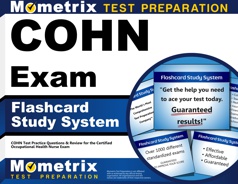 COHN Flashcards. Proven COHN test flashcards raise your score on the COHN test. Guaranteed.
chemical hazards
while logic hazards
safety and industrial hygiene issues
standards and regulations
emergency response
physical hazards and ergonomics
psycho-physiologic stress
disease management
health education and promotion
management principles
information management and record-keeping
clinical practice
The COHN-S exam assesses the candidate's skill as a clinician, manager, educator, consultant, and case manager. The content areas on the COHN-S exam are the same as those on the COHN exam, with an extra emphasis on leadership. The examinations consist of 160 multiple-choice questions (including 24 pretest questions), and must be completed within three hours. These exams are offered at AMP testing centers around the nation.