The National-Interstate Council of State Boards of Cosmetology (NIC) offers a Cosmetology test for those individuals who wish to become licensed in a specialty area of the field. However, the state has established strict rules for the administration of these tests.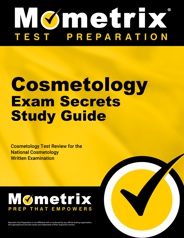 Prepare with our Cosmetology Study Guide and Practice Questions. Print or eBook. Guaranteed to raise your score. Get started today!
Since there is a fee for taking a Cosmetology test, and in order to avoid losing this fee without obtaining licensure, candidates should be entirely familiar with the rules. For instance, if you need to reschedule your test, you need to give at least two days' notice in order to avoid losing your registration fee.
If you do not show up for your testing session without the required two days' notice, you will forfeit your registration fee. You may also forfeit your Cosmetology test fee by failing to provide sufficient identification, by showing up late, or by dressing improperly.
In order to take the test, you must have a piece of government-issued identification with your full name, photo, and date of birth. Before you take the test, you should clarify the language in which you wish to take it.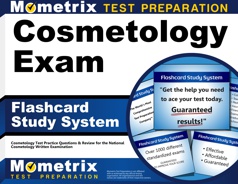 Cosmetology Flashcards. Proven Cosmetology test flashcards raise your score on the Cosmetology test. Guaranteed.
The exams are generally written in English, although some are available in Spanish or Vietnamese. Be sure to check whether your Cosmetology test is offered in your preferred language.
You must bring most of the practical materials to the exam site, though some will be provided by the administrator.
The written sections of each Cosmetology test are closed book, meaning that you are not allowed to bring any study materials into the testing area.
You must score at least 70% on the test in order to pass.
You can take the Cosmetology test on a computer or on paper. If you take the exam on a computer, your score for the written portion will be ready immediately.
If you pass the Cosmetology test, your score report will simply state this fact. If you do not pass, you will receive a diagnostic summary of your performance in each area, so that you will know how to prepare for your next attempt.