The Certified Pulmonary Function Technologist (CPFT) exam may be taken by persons age 18 or over who are Certified Respiratory Technicians, Registered Respiratory Technicians, or high school graduates with two or more years of clinical experience in pulmonary function technology.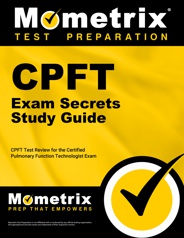 Prepare with our CPFT Study Guide and Practice Questions. Print or eBook. Guaranteed to raise your score. Get started today!
The experience must have been under the direction of a pulmonary function Medical Director. Eligible individuals must have an associate's degree from a respiratory therapy college-level program accredited by either the Committee on Accreditation for Respiratory Care or the Commission on Accreditation of Allied Health Education Programs.
CRTs and RRTs must be credentialed by the NBRC or National Board for Respiratory Care, the issuing agency for the CPFT certification. There are no application deadlines for scheduling the examination, since it may be taken at any scheduled date.
There are a total of 115 multiple-choice questions within the three major content areas of equipment, diagnostic procedures, and data management. Two hours are allotted for completion of the 115 questions.
The test is administered in all fifty states and in various countries around the world. Registration for test availability can be completed online after the appropriate payments have been made.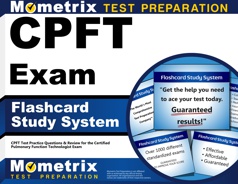 CPFT Flashcards. Proven CPFT test flashcards raise your score on the CPFT test. Guaranteed.
The content of the CPFT examination is extensive, and a thorough familiarity with current equipment is vital. The registrant must be familiar with the techniques of setting-up, calibrating, and maintaining an array of equipment, such as blood gas analyzers, peak flow meters, and pulmonary breathing measurement devices.
Aside from equipment operation, function, and maintenance, the test taker must answer questions regarding the necessity and performance of the testing procedures. When tests are conducted, the CPFT must vouch for the validity of the results and manage the data appropriately.
Data management includes a familiarity with reference ranges and the accurate extrapolation of results. The CPFT must have control over laboratory management practices to ensure patient and client satisfaction.
Immediately after taking the exam online, the candidate will receive pass/fail results from the exam administrators. Raw scores will also be reported for multiple-choice examinees. The entry-level passing score for this exam is a composite scaled score of 75.
CPFT Study Guide
Explore our free CPFT review provided by Mometrix. Check out our premium CPFT study guide to take your studying to the next level. If you benefit from these materials, just click the link below! To compliment our CPFT book, we also offer extensive CPFT flashcards for even more CPFT test prep help. We hope you enjoy our products! Your purchase helps us make more great, free CPFT certification content for test-takers just like yourself.