There's a lot that goes on in a medical facility. Patients can quickly identify health care professionals like doctors and nurses, but there are other professionals involved who are equally invested in patient care. Risk management professionals are charged with mitigating risk by focusing on patient safety, risk assessments, and understanding various laws and regulations. The American Hospital Association's Certification Center offers the Certified Professional in Health Care Risk Management (CPHRM) certification. These medical professionals demonstrate a broad knowledge of their field. The test contains five knowledge areas, and you'll need an outstanding study guide to prepare. This guide provides an overview of the test and a study guide recommendation.
What education and/or work requirements do I have to meet to take the test?
Candidates must meet one of the following educational requirements and risk management qualifications. Educational requirements are:
A high school diploma or equivalent with nine years of work experience in healthcare or with a healthcare industry service provider
An associate degree with seven years of experience
A bachelor's degree or higher with five years of experience
Candidates must have also worked in risk management for 3,000 hours over the last three years or have a full-time job in which at least half of their duties, also over the last three years, are in risk management.
How many questions are on the Certified Professional in Healthcare Risk Management exam?
The exam has 100 scored questions. Since there are 10 unscored questions, meaning there are 110 total multiple-choice questions on the test.
How much time do candidates have to complete the exam?
The test time is 2 hours.
What is the exam fee?
American Society for Healthcare Engineering members or members of another American Hospital Association group pay a $275 exam fee. Nonmembers pay $425.
What's on the Certified Professional in Healthcare Risk Management test?
The test contains five main content areas.
Clinical and patient safety has 35 items. Candidates will be tested on patient safety; providing staff guidance regarding patients who are disruptive and family members who are verbally disruptive; the ability to design systems for written incident reports, patient complaints and/or satisfaction surveys, and clinical indicators.  
Risk financing has 10 items that include liability and legal action probability assessments; strategies to combat risk financing; and overseeing accident investigations.
Legal and regulatory has 24 items including vendor liability program management; promoting compliance in several areas, including state-specific legislation, federal and state laws and regulations, and state reporting requirements; and providing staff guidance in areas that include care consent.
Healthcare operations has 26 items including several risk assessment areas, such as assessing risk related to new and existing services, information technology liabilities, and risk management staff training; and developing and coordinating an enterprise risk management system that covers the organization's response to mistakes and various management activities.
Claims and litigation has five items, including systems to track open and closed claims; and notification to interested parties (carriers and litigation department) of potential or actual claims.
Where can I take the exam?
Candidates can take the exam at 9 a.m. or 1:30 p.m. Monday through Saturday (excluding certain holidays) at one of more than 200 private test centers across the country. The test is also available at certain industry conferences.
What identification should I show at the test center?
Make sure to bring your test confirmation and two forms of identification. One form must be a government- or state-issued ID that contains a photo and a signature. A driver's license is an acceptable form of primary ID. Candidates must also bring a secondary form of ID that has a name and signature.
Are certain personal items banned from the test center?
Yes. Candidates cannot bring electronics or personal belongings into the testing center, such as electronics, mobile phones, and certain items of clothing items.
Will the test center let me bring in my own calculator?
Candidates can bring their own nonprogrammable calculators if their test requires one.
How is the exam scored?
The Certified Professional in Health Care Risk Management test is a pass/fail test. Candidates will generally receive their results before leaving the test center, assuming they've taken the test by computer.
I need study materials to help me prepare for this exam. Which ones should I get?
The study materials from Mometrix are what you need. Our professionals have built a career creating test materials and helping people prepare for tests like the Certified Professional in Health Care Risk Management exam. Our study guide contains helpful hints on correctly answering questions, and our valuable flashcards easily explain the most difficult concepts.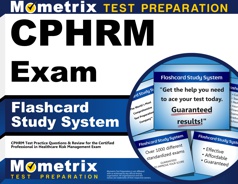 CPHRM Flashcards. Proven CPHRM test flashcards raise your score on the CPHRM test. Guaranteed.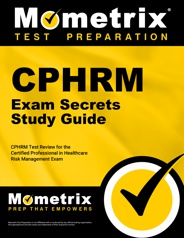 Prepare with our CPHRM Study Guide and Practice Questions. Print or eBook. Guaranteed to raise your score. Get started today!