A polysomnographic technician, or polysomnographic technologist, performs sleep studies — also known as "polysomnography" (PSG) — on subjects usually suffering from sleep disorders. It is a highly technical, trusted and critical job at the advent of sleep science.
CPSGT Overview
A polysomnographic technician, or polysomnographic technologist, performs sleep studies — also known as "polysomnography" (PSG) — on subjects usually suffering from sleep disorders. It is a highly technical, trusted and critical job at the advent of sleep science.
Because of this, the Board of Registered Polysomnographic Technologists (BRPT) sets credentialing standards known as the Certified Polysomnographic Technician (CPSGT), a certification that allows those new to the sleep science field to begin their careers.
The CPSGT exam has been designed to determine participants' knowledge about PSG and aptitude for the requirements of entry-level polysomnographic technicians. The BRPT gives CPSGT certificate holders three years to earn their registered polysomnographic technology (RPSFT) credential, or it rescinds their CPSGT title.
Q
Are any Qualifications Required Before Receiving CPSGT Certification?
A
The BRPT requires that candidates either:
Have at least three months of clinical experience in polysomnography and have completed a "self-study" education program
Are within two months of their graduation from an accredited polysomnography technology education program
Or have completed a designated "focused" education program or combination of self-study education and focused education programs
Beyond these requirements, candidates must have a Basic Life Support certification or equivalent and follow the BRPT standards of conduct, as well as pass the CPSGT exam.
Q
What Topics Are Covered On The CPSGT Exam?
A
There are 60 multiple choice questions on the CPSGT exam plus 15 unscored, multiple choice pretest questions. These 60 questions cover a range of related topics and, in general, participants will be expected to demonstrate expertise on:
Basic math computation skills
Basic verbal communication skills
Basic written communication skills
Basic computer knowledge
Safety
Medical terminology
Patient confidentiality
Basic patient care and emergency procedures
Medical ethics
To do well on the CPSGT exam, test takers should also have specific knowledge about critical areas, in addition to basic knowledge around the above topics. These specific areas include:
Sleep physiology
Respiratory Physiology
Cardiac Physiology
Sleep apnea and diagnostic criteria
Adult and periodic testing procedures for sleep apnea
Practice parameters for sleep apnea
Scoring rules
Electroencephalogram (EEG) waveform morphology
Troubleshooting skills
Continuous Positive Airway Pressure (CPAP) intervention, treatment and therapy
Recognizing needs for bilevel therapy and supplemental oxygen
Q
How Is The CPSGT Exam Divided?
A
The CPSGT exam is broken into three domains, each of which covers a critical topic for certified polysomnographic technicians.
Domain One: Covers 45 percent of the total test and quizzes participants on sleep study preparation and performance.
The first task within this domain covers 15 to 19 percent of the total domain and has test takers review patient information and perform a clinical assessment through the following:
Verify a clinician's orders and testing indications
History and physical
Medications
Patient interview and orientation
Questionnaires
The second task, which covers 22 to 26 percent of the first domain, covers technical preparation for procedures and asks about the following:
Equipment and supplies
Montages
Identifying anatomically appropriate locations
Site preparation and application
Impedance verification and calibrations
The third task makes up 30 to 33 percent of domain one, and quizzes participants on how to follow procedures and protocols by asking about the below:
Adult PSG protocols
Pediatric PSG protocols
Daytime testing protocols like a multiple sleep latency test (MSLT) or maintenance of wakefulness test (MWT)
Home sleep apnea testing (HSAT)
Finally, the fourth task within domain one, which covers 26 to 30 percent of the whole domain, is designed to test applicants' ability to identify, respond to and document findings. Specifically, it covers the following:
Waveform variations (including abnormal electroencephalographies (EEGs) and electrocardiograms (EKGs))
Artifacts
Equipment malfunctions
Physiologic and/or clinical events
Settings such as filters, sensitivity and gain
Domain Two: Covers 30 percent of the total test and quizzes participants on sleep physiology recognition and summary
The first task within domain two covers the participant's ability to recognize physiological events in adults and pediatrics, making up 67 to 78 percent of the total domain. Specifically, it tests on the following:
Sleep stages
Arousals
Respiratory events
Desaturations
Movements
Cardiac events
The second task of domain two makes up the remaining 22 to 33 percent of the domain and asks test takers to perform calculations and document their observations. It covers:
Formulas like the Apnea Hypopnea Index (AHI) and sleep latency
The ability to conduct a technician summary
Domain Three: Covers 25 percent of the total test and quizzes participants on therapeutic treatment and intervention.
The first task within domain three focuses on the test taker's ability to administer CPAP and bilevel therapy and makes up 80 to 93 percent of the whole domain. This includes:
Titration guidelines
Acclimation and proper interface fit
Troubleshoot intolerance
Explaining the importance of therapy
The second task within domain three makes up the remaining 7 to 20 percent of the whole domain and focuses on oxygen therapy by quizzing participants on their knowledge of oxygen guidelines.
Q
How Is The CPSGT Exam Administered?
A
In order to take the CPSGT exam, you must schedule and examination through the BRPT. There is an exam fee of $240 and the test can be taken at test center locations around the world. The exam is computer-based and, once completed, will give the candidate a pass/fail notification immediately.
Q
How Can I Do Well On The CPSGT Exam?
A
As the CPSGT is a technically-detailed and knowledge-intensive course, extensive studying is recommended, even if you already have experience in the field. Many candidates begin reviewing relevant material at least six months in advance.
Utilizing available study guides and flashcards is highly recommended. With those in hand, setting up a consistent study routine to review the material, alternating between the resources and connecting with a study partner or group that can quiz you using that material will all be helpful in familiarizing yourself with the topics covered in the test.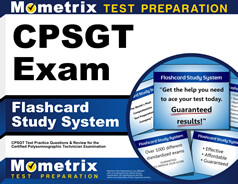 CPSGT Exam Flashcards. Proven flashcards raise test scores on the RPSGT exam. Guaranteed.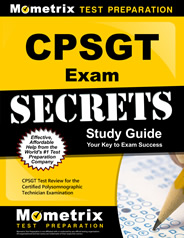 Prepare with our CPSGT Exam Study Guide and Practice Questions. Print or eBook. Guaranteed to raise your score. Get started today!