Auditors who have a passion for quality have a way to differentiate themselves from other professionals. They can take the Quality Auditor Certification exam (CQA). Attaining this designation shows that you have mastered the quality control skills to ascertain whether business systems are properly functioning.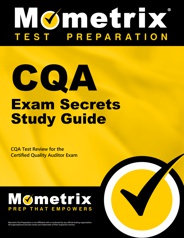 Check Out Mometrix's Certified Quality Auditor Printed Study Guide
The American Society of Quality (ASQ) offers the certification. As with any test, there are some things candidates should know, and some help they can get to prepare. Here's a look at the Quality Auditor Certification process.
How can I apply to take the Quality Auditor Certification exam?
You can apply, online, though the American Society of Quality. You will need your resume as part of the application process. Once you've been approved to take the test, you can schedule your exam date either online or by phone.
How many questions are on the test? How long does it take to complete?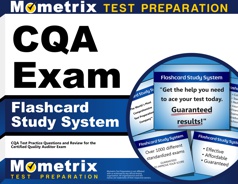 Certified Quality Auditor Flashcards. Proven Certified Quality Auditor test flashcards raise your score on the test. Guaranteed.
There are 165 multiple choice questions on the exam. Of those, 150 are scored and 15 are not. The test, which is given in English only, takes 5.5 hours. The test is offered via computer, or paper and pencil. The test is "open book," except for the essay portion of the exam.
What does it cost to take this certification?
American Society of Quality members pay $348 to take the exam. Non-members pay $498. The price includes a $70, non-refundable processing fee.
What are the requirements for taking the Quality Auditor Certification exam?
There are some rather specific work and education requirements. Candidates must have at least eight years of experience in an area of the Certified Quality Auditor Body of Knowledge. At least three of those years must be in a "decision-making position."
The experience requirement can be lessened, by anywhere from one to five years, based on the level of education the candidate has attained.
How long does the certification last?
Certification lasts three years, and can be renewed.
What's covered on the test?
Here's a summary of the test categories and what you can expect.
Auditing Fundamentals (27 questions): This section examines types of audits; audit scope and purpose; audit criteria; professional conduct; and roles and responsibilities. Candidates can expect questions on various auditing methods, audit types, the roles of audit participants, and more.
Auditing Process (42 questions): Audit preparation and planning; audit performance; audit reporting; and audit follow-up and closure are all covered here. Expect topics to include audit planning, how auditors are selected, logistical issues, audit strategies, data collection, how to organize evidence, and much more.
Auditor Competencies (25 questions): This section looks at auditor characteristics; on-site audit resource management; conflict resolution; communication and presentation techniques; and team dynamics. Some of the topics include characteristics of an effective auditor, interviewing, team management, and training auditors.
Audit Program Management and Business Applications (30 questions): Categories here are audit program management, and business and financial impact. Includes audit support from management, staff development, qualitative and quantitative data analysis, and more.
Quality Tools and Techniques (26 questions): This section covers a lot of ground. The categories are basic quality and problem-solving tools; process improvement techniques; basic studies; sampling methods; change control and configuration management; verification and validation; and risk management tools. Areas include the significance and impact of outliers, sampling plans and terms, managing risk, and more.
What do I need to bring to the test center?
You'll need a government issued ID, such as a driver's license or passport, with a photo and signature. Please make sure the name on your ID exactly matches the name on your testing documents; otherwise, you will not be allowed to take the test. Also, your identification cannot be damaged in any way.
What items are prohibited from the testing room?
In short, you're not allowed to bring anything into the testing room. Items prohibited include cellphones, any personal items, wallets, medication, and the like. You can place your personal items in a secure locker at the testing center.
What's the passing score for the Quality Auditor Certification exam?
Candidates must attain a score of at least 550 (out of 750) to pass the exam.
What's the re-test policy?
If you fail the exam, you may take it again. There is no limit to the number of times you can retake the test. It costs $298 to retake the test.
What if I need a refund, or need to cancel my test. What is the policy?
If your application is not approved, you're eligible for a refund, less the $70 processing fee.
If you wish to reschedule your appointment, you must do so at least 5 days before your appointment, and pay a $70 fee. If you wish to cancel, the 5-day rule also applies, and you may be eligible for a refund of some of your fees.
Quality is important to businesses. This is why the Quality Auditor Certification is so important. To help you prepare, Mometrix has a number of tools to help you study for, and pass, the test.
Our excellent study guides will help you further understand all aspects of the test. Our guides examine the topic areas you're likely to see, and quizzes you in a way that gives you a deep, detailed understanding of what you're likely to see on the test.
Our flashcard system helps you study anywhere you are. Whether you're sitting at lunch, or working with a friend, you can test yourself on all aspects of the exam.
Good luck on your quest to become a Quality Auditor Certification. We can help get you there.
Quality Auditor Certification Study Guide
Explore our free Quality Auditor Certification review provided by Mometrix. Check out our premium Quality Auditor Certification study guide to take your studying to the next level. If you benefit from these materials, just click the link below! To compliment our Quality Auditor Certification book, we also offer extensive Quality Auditor Certification flashcards for even more Quality Auditor Certification test prep help.
We hope you enjoy our products! Your purchase helps us make more great, free Quality Auditor Certification certification content for test-takers just like yourself.