Certified Rehabilitation Counselor. These are the mental health professionals who help clients with disabilities find solutions to the daily problems they face. Whether the clients struggle with finding a job, pain or basic care, these professionals stand ready to assist.
To show that they meet the basic standards of professional quality, these professionals take the Commission on Rehabilitation Counselor Certification. The test was established by the American Rehabilitation Counseling Association (ARCA) and the National Rehabilitation Counseling Association (NRCA). 
Q
Are their minimum eligibility requirements to take the exam?
A
Yes. The eligibility requirements vary based on several different criteria, so it's best to check the "Criteria for Edibility" section of the Certified Rehabilitation Counselor certification guide. In short, candidates must have a master's or doctoral degree, may be required to serve an internship and meet employment requirements, and must have graduated from an approved institution.
Q
What's the fee to take the test?
Q
How many questions are on the Commission on Rehabilitation Counselor Certification exam?
A
There are 175 questions on this computer-based exam. Some 150 questions are scored and another 25 are not.
Q
How often is the test administered?
A
The exam tests knowledge in counseling and in issues of rehabilitation and disability. Candidates must pass both parts of the exam.
Candidates will be tested in 12 content areas, called domains.
Professional Orientation and Ethical Practice includes how rehabilitation counseling practices are structured.
Counseling Theories, Techniques, and Evidence-Based Practice includes theories in individual counseling and behavior and personality theory.
Group and Family Counseling includes practices, interventions, and theories of group and individual counseling.
Crisis and Trauma Counseling and Interventions includes client risk assessment and safety plan development.
Medical and Psychosocial Aspects of Chronic Illness and Disability covers barriers, including attitudinal and environmental, on people with disabilities.
Assessment, Occupational Analysis and Service Implementation tests the ability to assess a client's needs through testing and evaluation.
Career Development and Job Placement includes transitioning students with disabilities from school to work, as well as career development and work adjustment theories.
Demand-Side Employer Engagement examines issues of job accommodation and rehabilitation services marketing strategies and techniques
Community Resources and Partnerships includes available services, social security issues, and one-stop career center services.
Case Management includes strategies in conflict resolution, mediation, and negotiation.
Health Care and Disability Management look at several issues including workers compensation laws, managed care, and insurance programs.
Research, Methodology, and Performance Management includes techniques in strategic and budget planning.
Q
How much time do I have to finish the exam?
A
Candidates have 3.5 hours to finish the test. The total test time is 4 hours, and that includes time for instructions, check-in, and practice.
Q
Where can I take the Commission on Rehabilitation Counselor Certification exam?
A
Candidates can take the exam at any one of more than approximately 300 private test centers across the United States.
Q
Can I bring my mobile phone and other personal items into the test room?
A
No. Candidates are not allowed to bring any personal items into the test room, including any electronics, books, papers, jewelry, food or water. All personal items must be stored in a locker at the test center. Eyeglasses and some hair accessories are also subject to inspection.
Q
When should I arrive at the testing center?
A
You should get to the testing center at least 15 minutes before your exam time.
Q
What identification should I bring?
A
Candidates should bring one piece of government-issued identification, such as a driver's license, passport or military ID.
Q
When will I receive my test score report?
A
Candidates will receive their test score at the end of the exam.
Q
What is the Commission on Rehabilitation Counselor Certification exam passing score?
A
The test is graded on a pass/fail basis.
Q
I need the best study tools available. What should I buy?
A
Mometrix has the preparation tools you need for this challenging exam. Our study guide unlocks exam secrets that can help you best prepare. Our materials will help you learn how to look for clues to solve problems that stump test-takers and provide insights on how to quickly solve tough questions. Our flashcards are what busy professionals need. You can take them where ever you go and get in study time between appointment, at lunch, or on a break. These tools, written by professionals in the test-taking field, are exactly what you need.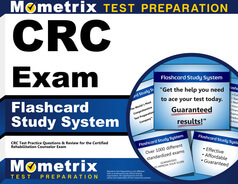 CRC Exam Flashcards. Proven CRC Exam flashcards raise your score on the CRC Exam. Guaranteed.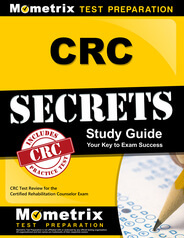 Prepare with our CRC Study Guide and Practice Questions. Print or eBook. Guaranteed to raise your score. Get started today!