The CSET program was developed by the Commission on Teacher Credentialing (CTC) to help teacher candidates to meet basic skills and subject matter competency. The CSET Art practice questions assess your knowledge across the domains of art and expression, as well as the history, culture, and theory of art. Part of your grade is based upon your art portfolio.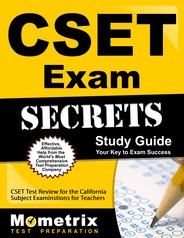 Prepare with our CSET Study Guide and Practice Questions. Print or eBook. Guaranteed to raise your score. Get started today!
Here's what we know about the questions that will be on your CSET Art test. There are two subtests of the examination.
The CSET Art test #133 practice test will ask you 20 multiple choice questions on Aesthetic Valuing and 1 extended question, 15 multiple choice questions on Historical and Cultural Context of the Visual Arts and 1 focused question, and 15 multiple choice questions on Artistic Perception, 1 focused question, and 1 focused drawing.
CSET Art test #134 practice test will ask you 30 multiple choice questions. This section of the subtest will also include 1 extended (portfolio-based—concentration) question, 1 focused (portfolio-based—breadth) question, and 1 focused drawing. This subtest will also have 10 multiple choice questions and 1 focused question on Connections, Relationships, and Applications. The final portion of the subtest consists of 10 multiple choice questions on History and Theories of Learning in Art.
The CSET Art practice test is timed. It will give you 2 hours and 45 minutes for each subtest, or a total of 5 hours and 30 minutes, if you take both subtests in a single session. Both subtests will allow you to handwrite and scan your responses into the computer for grading.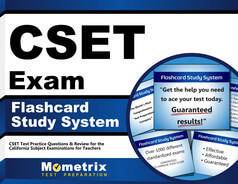 CSET Flashcards. Proven CSET test flashcards raise your score on the CSET test. Guaranteed.
The testing center will give you information on how to use a response sheet for handwritten responses. You will also need to bring six printed photographs of artwork as outlined in the Art Procedures Manual. You will want to be sure that these photographs are ready in plenty of time before scheduling your appointment to take your examination.
The test administrator will check your photographs when you arrive and then return them to you so that you have them for the testing. Remember to return them to the test administrator after your examination. They will be graded, but will not be returned to you.
A grade of 220 on each subtest will be considered passing score.
Click Here for CSET Practice Test