Every teaching candidate that wants to teach Home Economics is required to take an examination that was developed by the Commission on Teacher Credentialing (CTC) called the CSET, or California Subject Examinations for Teachers. The CSET Home Economic examination is comprised of 3 subtests. The numbers of the tests for Home Economics are CSET Home Economics subtest #181, CSET Home Economics subtest #182, and CSET Home Economics #182.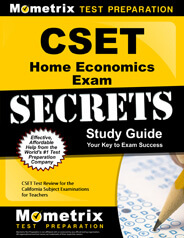 Prepare with our CSET Home Economics Study Guide and Practice Questions. Print or eBook. Guaranteed to raise your score. Get started today!
This examination is only available to be taken using a computer based format at an official testing center. When you register for your CSET Home Economics examination, you will need to plan for 1 hour and 30 minutes to take CSET Home Economics test #181 and 182. For CSET Home Economics subtest #183, you will need to plan for 2 full hours.
If you prefer to do them all at once, you can certainly do so. If you decide to register for all three subtests at once, you will need to allow 5 hours to take all of the tests.
The CSET Home Economics practice test will prepare you for every subject matter on all three subtests. Study the CSET practice questions on Personal, Family, and Child Development and you will be able to tackle the 40 multiple choice questions and 1 extended constructive response question on CSET subtest #181 without difficulty.
Study the subjects of Nutrition, Foods, and Hospitality to do well on the next set of 40 multiple choice questions and 2 short, focused questions for CSET subtest #182.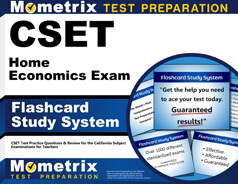 CSET Home Economics Flashcards. Proven CSET Home Economics test flashcards raise your score on the CSET Home Economics test. Guaranteed.
CSET subtest #183 gives you another 40 multiple choice questions and 4 short, focused questions on the topics of Fashion and Textiles, Housing and Interior Design, and Consumer Education.
If some of the questions don't sound like anything you studied for, it may be because there could be a few questions inserted solely for future testing evaluation. Your answers will not be counted for those questions.
The testing center will provide you with a response sheet for some of the constructed response answers. A tutorial will guide you as to how to scan it in at the end of the test. You will be able to receive your scores within 7 weeks of taking your examination. Get a passing score of 220 on each of the subtests to receive your certification in Home Economics.