Teacher candidates that want to receive certification to teach K-12 Mathematics will need to take the CSET Mathematics examination at an official testing site. Achieving a score of 220 or better on each of the three sections of the examination will certify you to teach Mathematics in the areas of in Algebra, Geometry, Probability and Statistics, and Calculus.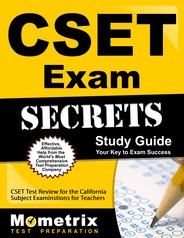 Prepare with our CSET Study Guide and Practice Questions. Print or eBook. Guaranteed to raise your score. Get started today!
This examination is only available using a computer based format. It may be helpful for you to know the breakdown of your CSET Mathematics examination.
The test consists of 10 multiple choice questions in the area of Number and Quantity and 25 multiple choice questions in Algebra. There will also be 3 constructed response questions in these subject areas. The questions are written as to make you think critically, rather than to merely memorizing facts. This subject matter covers the material on CSET Mathematics subtest #211.
The examination uses a similar format for the next section, which is CSET Mathematics subtest #212. This part of the examination will give you 25 multiple choice questions on Geometry, 10 multiple choice questions on Probability and Statistics, and 3 constructed response questions.
The third and final section is CSET Mathematics #213. It consists of 30 multiple choice questions on Calculus and 2 constructed response questions. The CSET Mathematics practice questions will help to prepare you to do well on the examination. It helps to take the CSET Mathematics practice test well before you register for the CSET Mathematics examination.
CSET Math Practice Test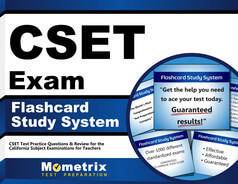 CSET Flashcards. Proven CSET test flashcards raise your score on the CSET test. Guaranteed.
Each subtest is timed, but there is no need to rush. If you study well, you should have plenty of time to finish. Make sure to give yourself 2 hours and 30 minutes for CSET Mathematics subtest #211 and #212. You will only have 2 hours for CSET Mathematics subtest #213.
Be sure to take an approved graphing calculator to the testing center. You will need it for subtest #212.
If any of the questions seem out of place, it may be because they were placed in the test as a means for making an assessment of future testing. Your answers to these questions will be thrown out when your examination is scored. Within 7 weeks of taking your test, you will be able to find out whether you passed your test.
Click Here for CSET Practice Test