Physical education teachers play an important role in our education system. But before they begin working in the classroom, they need to be certified. The California Subject Examination for Teachers (CSET) Physical Education Exam is the certification exam for teachers who want to teach physical education in California.
The exam tests whether aspiring teachers have the knowledge to successfully teach in one of the state's public-schools. This test has several different elements, and this guide goes over what you need to know. It also offers advice on a first-class study guide that can help you pass.
What's on the CSET Physical Education Exam?
The exam consists of three subtests. Each subtest has several domains that test knowledge in a number of different content areas. The tests contain multiple choice and constructed response questions. Candidates may take each subtest one at a time or take all three at once.
Subtest I (test code 129)
Growth, motor development, and motor learning and the science of human movement are covered here. This subtest includes 17 total domains, which include:
Physical and developmental changes: Tests knowledge of physical changes due to growth, development, and age
Motor learning, and motor task development: These are two separate domains that cover theories of motor learning, and motor task analysis.
Body systems: Understanding the skeletal and nervous system muscles and major muscle groups, and how these systems interact with one another.
Effects of exercise: How exercise impacts body systems
Factors affecting physical performance: How gender, age, disability and other factors impact physical performance
Subtest II (test code 130)
There are three main areas — The sociology and psychology of human movement, movement concepts and forms, and assessment and evaluation principles. There are 21 different domains, including:
Personal development: How movement relates to identity development, including self-awareness, self-expression, and body image
Factors influencing activity choices: How factors such as gender, age and culture influence activity choices
Nontraditional and cooperative activities: Ability to Identify nontraditional games and activities like bocce ball and team juggling, and how to use those activities to promote critical thinking, leadership, cooperation, and more.
Evaluation methods in physical education: Physical education evaluation methods are covered here
Gymnastic movements: Understanding gymnastic forms and movements
Subtest III (test code 131)
Contains professional foundations, and Integration of concepts. There are 12 different domains, including:
Historical development: Understand historical development of physical education
urrent research, trends, and issues: Test the ability to analyze issues and trends that impact physical education
Selecting, adapting, and modifying activities: Understands how to select, adapt, and modify sports and games based on several different factors, including skill level.
When can I take the test?
The test is available during specific testing windows throughout the year. Make sure to check test availability.
How long does it take to complete the tests?
Subtests I and III have a test time of one hour and 45 minutes per subtest. Subtest two has a test time of one hour and 30 minutes. If you elect to take all three tests at once, the single-session test time is 5 hours.
How much does the test cost?
The tests cost $99 each ($297 if you take them all at once).
When will I receive my test results?
You should know your score within seven weeks after taking the test.
What's prohibited in the test room?
As with most tests, you can't bring electronics or personal items in the test center. Personal items include watches, wallets and jewelry. Electronic items include cellphones and any electronic communication device.
Where can I find a study guide to help me pass the test?
Mometrix can help. Our CSET Physical Education Exam study guide has the information you need to help you succeed. The guide has been written by professionals who understand what it takes to pass the test. The guide walks you through questions you can expect to see on the exam and offers tips on how to best tackle them. There's also an amazing flashcards that makes it very easy to study on the go. Both of these outstanding tools will help out you on the road to success.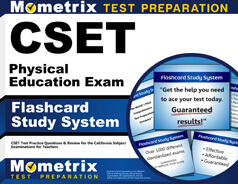 CSET Physical Education Flashcards. Proven CSET Physical Education test flashcards raise your score on the CSET Physical Education test. Guaranteed.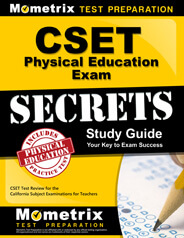 Prepare with our CSET Physical Education Study Guide and Practice Questions. Print or eBook. Guaranteed to raise your score. Get started today!