Prospective teachers that want to become certified to teach K-12 Science classes will need to demonstrates competency in many subject matter areas of Science. Once you have attained a score of 220 on each subtest for the CSET Science examination, you will become certified to teach general science and integrated science. You will select an area of concentration for subtest III in either Biology/Life Science, Chemistry, Earth and Planetary Science, or Physics.
This examination includes 3 subtests. The CSET tests are designed to evaluate your knowledge and mastery of the subject matter. You will need to demonstrate your knowledge using critical thinking skills and not just recalling factual information. The CSET practice test will prepare you for all sections of the test.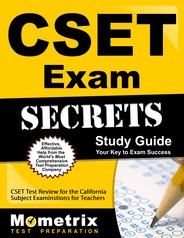 Prepare with our CSET Study Guide and Practice Questions. Print or eBook. Guaranteed to raise your score. Get started today!
CSET Science subtest #118 give you 58 multiple choice questions in the subject areas of Astronomy, Dynamic, Processes of the Earth, Earth Resources, Waves, Forces and Motion, Electricity and Magnetism. You will also want to use the CSET Science practice questions to formulate responses for 2 constructed response questions in Dynamic Processes of the Earth and Forces and Motion.
CSET Science subtest #119 gives you 58 multiple choice questions across the subject matter areas of Ecology, Genetics and Evolution, Molecular Biology and Biochemistry, Cell and Organismal Biology, Heat Transfer and Thermodynamics, Structure and Properties of Matter. This subtest also includes constructed response questions on Molecular Biology and Biochemistry and Cell and Organismal Biology.
CSET Science subtests 120-123 is comprised of 50 questions each on the subject matter areas of Biology/Life Science, Chemistry, Earth and Planetary Science, and Physics.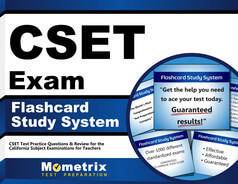 CSET Flashcards. Proven CSET test flashcards raise your score on the CSET test. Guaranteed.
You will only need to take one of these subject areas as a subject matter concentration. This test is only offered in a computer based format. You are required to take all subtests at an official testing center.
Be sure to allow yourself a full 2 hours to take each subtest, or take them all in a single session with a 6-hour time limit.
The computer program provides an online screen scientific calendar. The proctor at the testing center will provide you with a periodic table and a reference sheet that contains scientific constants, trigonometric functions, formulas and notes to help you. You will also get instructions on how to upload your answer response sheet to your examination.
Dress comfortably, arrive early, and take your time during the examination so that you can do your best.
CSET Science Practice Questions
Click Here for CSET Practice Test