The California Subject Examinations for Teachers (CSET) provide a path to certification for aspiring instructors.  Candidates hoping to teach multiple subjects in grades 7-12 must either make a C or better in relevant college courses or earn a passing score on the CSET for those academic disciplines.
Online CSET Social Science Prep Course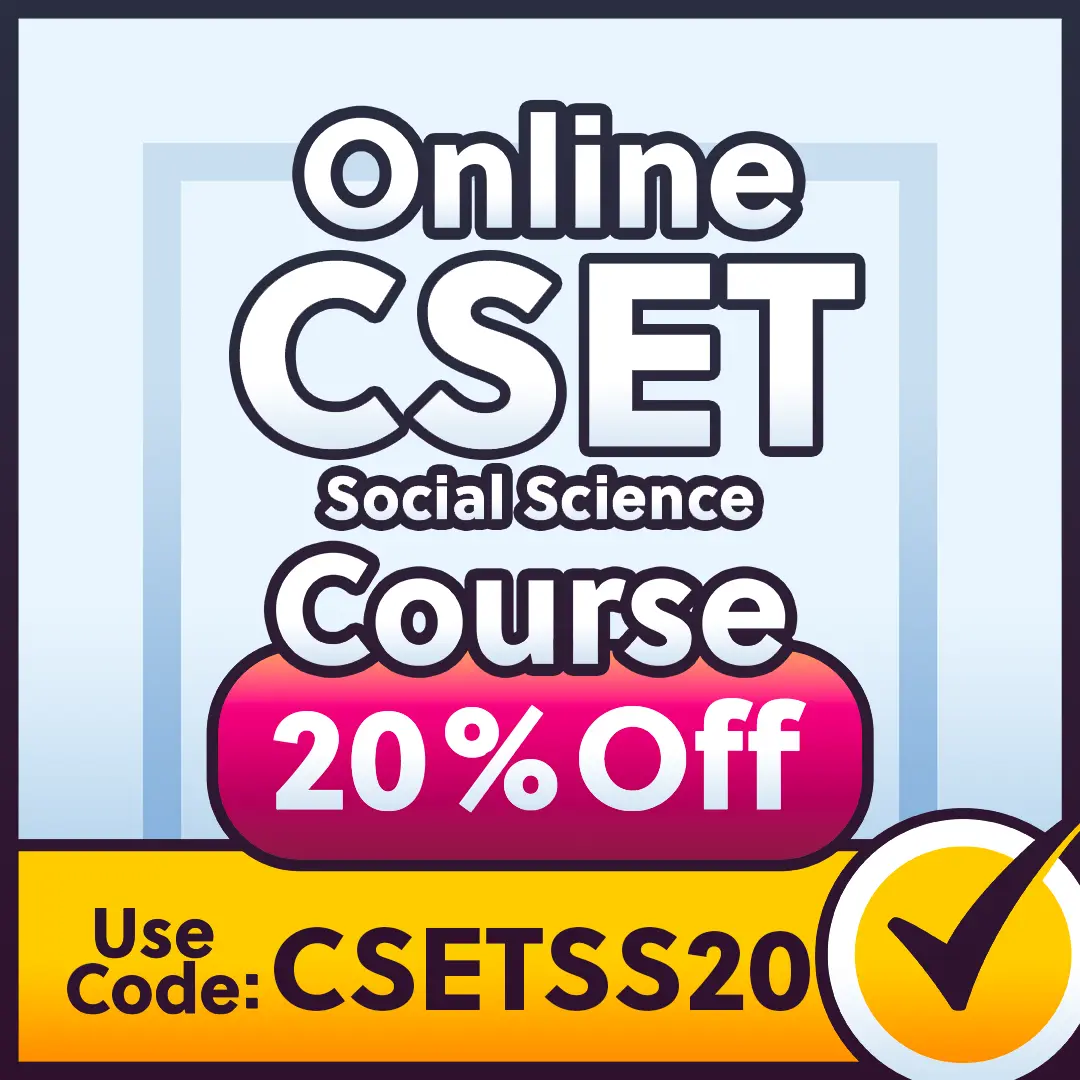 If you want to be fully prepared, Mometrix offers an online CSET Social Science Prep Course. The course is designed to provide you with any and every resource you might want while studying. The CSET Social Science Course includes:
Review Lessons Covering Every Topic
350+ CSET Practice Questions
More than 450 Digital Flashcards
Over 90 Instructional Videos
Money-back Guarantee
Free Mobile Access
and More!
The CSET Social Science Prep Course is designed to help any learner get everything they need to prepare for their CSET Social Science exam. Click below to check it out!
Who can take the CSET-Social Science Test?
California residents with a bachelor's degree in education or close to completing their college classes may take a CSET multi-subject exam to certify their knowledge of additional subjects.
Residents of other states should contact CSET online to inquire about the tests or coursework they will need to obtain California certification. 
How do I arrange to take the CSET?
The CSET is a computer-delivered assessment available year-round at designated testing sites. To register for any or all of the three sections of the CSET-SocSci test, contact the California Educator Credentialing Exams online to select convenient testing dates and sites.
There is a $99 fee for each module of the Social Science test or $297 to take the three subtests in one sitting.  The only item needed to take the test is a picture ID.  Special accommodations are available for those with disabilities. 
How is the CSET-Social Science Exam organized?
The CSET-SociSci is three tests in one with sections on world history and geography, U.S. history and geography, and civics, economics, and California history.
The subtests on world and U.S. history and geography consist of 39 multiple choice and three short essay questions.  Two hours and 15 minutes are allotted for each of these assessments. The remaining subtest over civics, economics, and California history has 40 multiple choice questions and three constructed response items, all of which must be completed in one hour and 45 minutes.  The passing score for each of the subtests is 220. Results are published within seven weeks, and the scores are valid for ten years.
How should I study for the CSET?
The breadth of the material to be mastered for the three social science subtests presents a challenge even to well-prepared candidates.  Some test takers elect to take one module at a time to focus study on specific areas while others combine the three subtests for one day of testing. 
Whatever one's choice of a testing plan, practice in answering the kinds of questions that comprise the CSET is essential to success.  Mometrix offers comprehensive, affordable, and accessible CSET materials proven to aid prospective teachers in absorbing content within limited time for study.
What sorts of test preparation are available?
The Mometrix Secrets Study Guide for CSET is available in both print and ebook formats.  The Guide provides practice questions for each section of the Social Science exam, from the achievements of the Chinese T'ang Dynasty to the American doctrine of Manifest Destiny.  The Secrets Study Guide for CSET teaches future educators to decode complex questions and manage test time effectively.
For those who want their CSET preparation to focus on repetition of concepts in a portable package, Mometrix Flashcards can turn spare, random moments into study opportunities.  Flashcards fit into the hand and make review for the CSET possible in rush hour traffic or a dentist's waiting room.  With Mometrix Flashcards, test takers can drill individually or review with a group, confident in fulfilling their dreams of becoming a teacher. 
Those who want to get a sense of how much value Mometrix packs into its test preparation materials are invited to view a free, online video and free CSET practice test.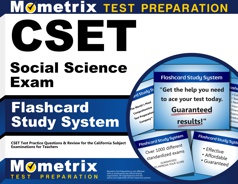 CSET Social Science Flashcards. Proven CSET Social Science test flashcards raise your score on the CSET Social Science test. Guaranteed.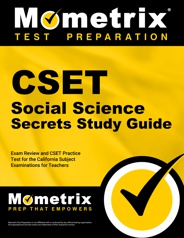 Prepare with our CSET Social Science Study Guide and Practice Questions. Print or eBook. Guaranteed to raise your score. Get started today!