The Certified Safety Professional certification examination (commonly known as the CSP exam) was developed by the Board of Certified Safety Professionals. The CSP credential has numerous professional benefits.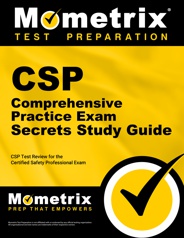 Prepare with our CSP Study Guide and Practice Questions. Print or eBook. Guaranteed to raise your score. Get started today!
Certified Safety Professionals tend to earn more money than their non-certified colleagues.
In addition, passing the CSP exam improves professional knowledge and skill in ways that directly translate to job performance.
Employers generally prefer candidates who have earned the CSP credential to those who have not.
The CSP exam program includes both the Safety Fundamentals and the Comprehensive Practice examinations.
Each of these exams consists of 200 multiple-choice questions, with four possible answers per question. Some answers may be partially correct, but there is only one best answer.
recognizing safety, health, and environmental hazards (35.4% of the exam)
measuring, evaluating, and controlling safety, health, and environmental hazards (30.9%)
safety, health, and environmental training and management (20.6)
business principle, practices, and metrics in safety, health, and environmental practice (13.1%)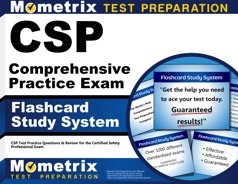 CSP Flashcards. Proven CSP test flashcards raise your score on the CSP test. Guaranteed.
Your CSP exam score is based on the number of questions you answer correctly. The test administrator makes no distinction between unanswered questions and questions answered incorrectly, so you should make an educated guess when you are uncertain.
The minimum passing score is adjusted depending on the difficulty of the test.
The CSP exam questions have been composed, edited, and field-tested by professionals. Questions are subjected to extensive testing before they are included as part of a CSP exam. The level of difficult is meant to be appropriate for individuals currently practicing as safety professionals.
CSP Study Guide
Explore our free CSP review provided by Mometrix. Check out our premium CSP study guide to take your studying to the next level. If you benefit from these materials, just click the link below! To compliment our CSP book, we also offer extensive flashcards for even more CSP exam prep help. We hope you enjoy our products! Your purchase helps us make more great, free CSP certification content for test-takers just like yourself.