The Certified Treasury Professional (CTP) Exam is used to distinguish individuals who have promised to uphold a standard of excellence in their profession. The CTP can give candidates an advantage in the job market.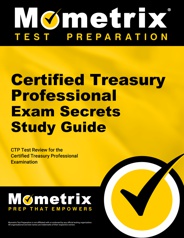 Prepare with our CTP Study Guide and Practice Questions. Print or eBook. Guaranteed to raise your score. Get started today!
Employers are seeking individuals who are not only qualified, but who have also demonstrated a commitment to the finance profession by completing the CTP Exam.
Employers in the financial sector have admitted that they seek individuals with a CTP designation because they believe these people are serious about their work and will be able to meet the high standards of many financial organizations.
Finance professionals in today's corporate world must be knowledgeable in the area of cash management as well as risk management, capital structure, mergers and acquisitions, corporate governance, and cash management.
In order to take the CTP Exam, candidates must meet specific eligibility requirements. Candidates can be in any one of five eligibility categories. All candidates must have work experience in cash management, an educational background in business or finance, or a teaching background in university-level finance courses.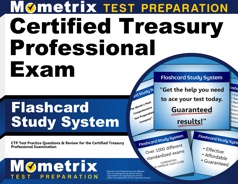 CTP Flashcards. Proven CTP test flashcards raise your score on the CTP test. Guaranteed.
Category A candidates must have at least two years of work-related experience in a cash management or finance-related position.
Category B candidates must have one year of work-related experience plus a graduate degree in business or finance.
Category C candidates have one year of work-related experience plus two years of teaching experience.
Category D candidates have a degree in business or finance plus two years of teaching experience.
Category E candidates have four years of teaching experience.
The CTP Exam is composed of 170 multiple-choice questions. The exam covers a variety of topics relating to treasury management.
Candidates can register for the exam by mail or online. To register online, candidates should visit www.afponline.org. Candidates registering online will be required to register as members of the Association for Financial Professionals (AFP). AFP members will have access to exchange magazines, industry newsletters, research reports, financial dictionaries and study aides.
Once registered, candidates will receive a letter confirming their eligibility. Candidates will also receive an Authorization to Test, or ATT. ATTs are e-mailed to candidates within three weeks of registration. When the candidate receives their ATT, they must contact the PearsonVUE Candidate Service Call Center at 866-TEST-CTP to schedule their exam.
On the day of the exam, candidates must show up at least thirty minutes prior to their testing time. Candidates must provide a signed photo ID plus another form of ID to be admitted into the testing facility. The name on the ID must exactly match the name used when registering or the candidate will not be allowed to take the test. Upon completion of the exam, candidates will immediately receive either confirmation that they have passed or a score report indicating they have failed.