The Certified Wound Care Nurse certification indicates specialization in the area of managing and treating patients with various types of wounds. This includes the treatment of wounds that may occur due to chronic disease processes.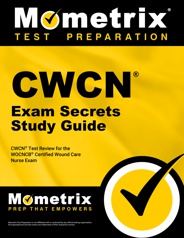 Prepare with our CWCN Study Guide and Practice Questions. Print or eBook. Guaranteed to raise your score. Get started today!
The Certified Wound Care Nurse exam is offered quarterly at various testing centers across the United States.
The fee to take the exam is $300 with discounts applied if more than one WOCNCB certification exam is taken at a time.
The exam questions focus on testing the RN's knowledge of care of the patient with skin wounds.
These can address the physiological processes involved with chronic wounds, along with the psychosocial and behavioral needs of the patient.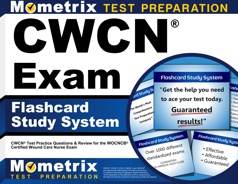 CWCN Flashcards. Proven CWCN test flashcards raise your score on the CWCN test. Guaranteed.
The exam also contains questions pertaining to the specific pathophysiologic processes involved with wound formation and repair, along with specific treatment modalities used to treat wounds.
Certification as a Certified Wound Care Nurse is valid for 5 years.
At that time, the RN can retake the exam to recertify, or requirements for the Professional Growth Program are met to qualify for recertification.
This program utilizes a mixture of direct patient care and continuing education activities to meet specific requirements necessary to maintain certification.
CWCN®, COCN®, CCCN®, CWON®, and CWOCN® are registered trademarks of the Wound Ostomy Continence Nursing Certification Board. Mometrix Test Preparation is not affiliated with or endorsed by the Wound Ostomy Continence Nursing Certification Board.