The certification process for medical health professionals seeking certification from the American Academy of Wound Management is extended to health-care professions with college degrees at the Bachelor of Science, Master's degree, or Doctoral levels.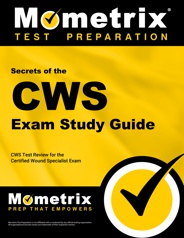 Prepare with our CWS Study Guide and Practice Questions. Print or eBook. Guaranteed to raise your score. Get started today!
There is an additional three-year experience requirement in clinical wound care for those seeking the AAWM certification. The test takes four hours and consists of 200 multiple-choice questions. All testing centers are located in the United States. Scores for the AAWM certification test are sent by postal mail four to six weeks after the test completion date.
There are seven chief content areas on the certification examination:
The Anatomy portion of Section 1 accounts for 7% of the test's 200 questions. A familiarity with skin and blood composition is required, along with knowledge of cell tissue, composition, and blood count metrics.
Diagnosis counts for 20% of the total, and requires knowledge of the diversity of diagnostic techniques. In order to be successful in this area, the test taker must be familiar with techniques for obtaining skin and tissue cultures and for accurately interpreting laboratory results.
Only 4% of the test is devoted to psychosocial disorders related to wounds; this section deals with many of the common problems experienced by patients after injury or surgical repair of tissues and skin. Pain thresholds, psychological responses (as for instance depression), and quality of life issues are a chief concern in this section.
There are general areas of concern, which account for 13% of the exam. This general knowledge area requires a base of knowledge in the areas of clinical research, methods and documentation, nutrition, burns, the patient environment, and regulations and laws.
Physiology comprises 17% of the exam and deals with phases of healing, and the biological and chemical changes occurring in wound areas. This section focuses upon scarring and a variety of other skin changes that impact the medical outcome.
How the wound fits in with the progression of concurrent illness accounts for 17% of the certification exam. This section covers radiation; chemical and electrical damage; animal and insect bites; and the reaction of the body to foreign substances.
The final section of the exam falls into the general category of Therapeutics. This focuses on bandaging or other dressings, debridement, physical therapy, hydrotherapy, skin grafting, and a variety of other treatment strategies.
CWS Study Guide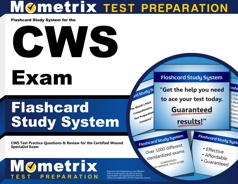 CWS Flashcards. Proven CWS test flashcards raise your score on the CWS test. Guaranteed.
Explore our free CWS review provided by Mometrix. Check out our premium CWS study guide to take your studying to the next level. If you benefit from these materials, just click the link below! To compliment our CWS book, we also offer extensive CWS flashcards for even more CWS test prep help.
We hope you enjoy our products! Your purchase helps us make more great, free CWS certification content for test-takers just like yourself.