The certification process for medical health professionals seeking certification from the American Academy of Wound Management is extended to health-care professions with college degrees at the Bachelor of Science, Master's degree, or Doctoral levels.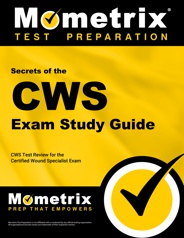 Prepare with our CWS Study Guide and Practice Questions. Print or eBook. Guaranteed to raise your score. Get started today!
There is an additional three-year experience requirement in clinical wound care for those seeking the AAWM certification. The test takes four hours and consists of 150 multiple-choice questions. All testing centers are located in the United States. Scores for the AAWM certification test are sent by postal mail four to six weeks after the test completion date.
There are five chief content areas on the certification examination:
Wound Healing Environment (18.4%)
Assessment and Diagnosis (27.2%)
Patient Management (24%)
Etiological Considerations (20.8%)
Professional Issues (9.6%)
CWS Study Guide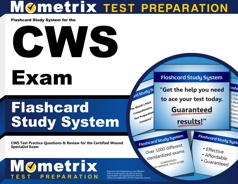 CWS Flashcards. Proven CWS test flashcards raise your score on the CWS test. Guaranteed.
Explore our free CWS review provided by Mometrix. Check out our premium CWS study guide to take your studying to the next level. If you benefit from these materials, just click the link below! To compliment our CWS book, we also offer extensive CWS flashcards for even more CWS test prep help.
We hope you enjoy our products! Your purchase helps us make more great, free CWS certification content for test-takers just like yourself.