The chief criteria for becoming a registered dietician are a baccalaureate degree in an institution accredited by the American Dietetic Association, compliance with recertification requirements, and passage of the Registration Exam for Dietitians.
The Registration Exam for Dietitians is a computerized test that is targeted toward the entry-level dietary position. The test requires knowledge in several areas common to the professional registered dietician. The test focuses upon broad areas of individual impact in food and nutrition; clinical treatment; education and research; and administration of state and community nutritional programs.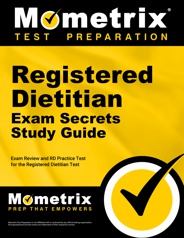 Prepare with our Registered Dietitian Exam Study Guide and Practice Questions. Print or eBook. Guaranteed to raise your score. Get started today!
The broadest of these categories is Nutrition Care for Individuals and Groups which accounts for 40% of the test questions. The next greatest component of the exam is the Principles of Dietetics content area (21% of the exam), followed by the Management of Food and Nutrition Programs and Services (21%), and finally Foodservice Systems (14%).
Registration fees are currently $200, with late fees applied to those who fail to sign up in time. Since the test is administered by computer, there is considerable latitude in scheduling. It is best to check the American Dietitian Association website for the dates of the individual dietitian areas, like renal, geriatric, sports, or pediatric specialties.
The Commission on Dietitian Registration also conducts recertification programs that require the maintenance of a portfolio, continuing education, and updated registration. In addition, the CDR offers a range of approved online and offline services and seminars that are targeted toward continuing dietary education.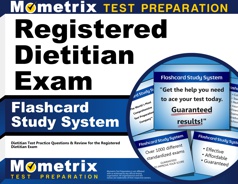 Registered Dietitian Exam Flashcards. Proven Registered Dietitian test flashcards raise your score on the Registered Dietitian test. Guaranteed.
At the basic level, the Registered Dietitian must demonstrate knowledge of food science, including nutrient composition of foods and food safety. In the area of community clinical nutrition, the test taker must demonstrate proficiency in nutritional screening methods and health assessment based on dietary concerns. The student must be knowledgeable in the use of nutrition in the treatment of disease and ailments and in prevention.
An aptitude for research and knowledge of nutritional counseling methods are also necessary for successful testing. The Registered Dietitian exam also poses questions about the operation of nutritional programs, including menu planning, the logistics of food service, and the safe distribution of food through a planned facility. Lastly, the RD test will pose questions of common concern to program management: financing, hiring, marketing, and quality control and improvement.