In order to become licensed to practice psychology, individuals must pass the Examination for Professional Practice in Psychology developed by the Association of State and Provincial Psychology Boards.
The EPPP draws material from the following content areas:
biological bases of behavior (11% of the exam)
cognitive-affective bases of behavior (13%)
social and multicultural bases of behavior (12%)
growth and lifespan development (13%)
assessment and diagnosis (14%)
treatment and intervention (16%)
research methods (6%)
ethical, legal, and professional issues (15%)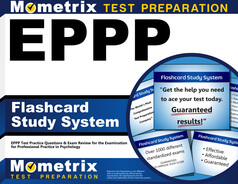 EPPP Flashcards. Proven EPPP test flashcards raise your score on the EPPP test. Guaranteed.
The exam consists of 225 multiple-choice questions, and must be completed within 4 hours and 15 minutes. EPPP scores are typically reported to the relevant jurisdiction two times a month, at which point the scores will be reported to the candidate by the jurisdiction board.
As for the scoring system, after the test is completed the number of questions answered correctly will be converted into a score on a scale of 200 to 800. This allows the test-giving organization to adjust scores depending on the difficulty of the test as it is administered.
Although the passing score will vary between jurisdictions, the Association of State and Provincial Psychology Boards recommends that 500 be the minimum passing score. The EPPP is administered by Prometric throughout the year and across the United States and Canada.
To register for a date and location, visit the Prometric website. Candidates are not required to sit for the exam in the jurisdiction for which they are seeking licensure.