To become a licensed esthetician, you will first need to pass the National Esthetician Written Theory exam. The exam is designed to measure your understanding of the scientific concepts, skin care, and services that are fundamental to your career in this field. It is a rigorous exam but an important step toward becoming a licensed professional.
What Should I Expect on Test Day?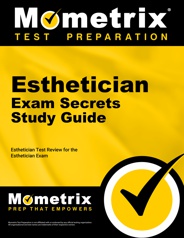 Prepare with our Esthetician Study Guide and Practice Questions. Print or eBook. Guaranteed to raise your score. Get started today!
It is really important that you follow the testing center's procedures and regulations to the letter. This is a strictly monitored exam and any violation of the rules could cause you to be removed from the exam room or prevented from taking the test altogether.
With that in mind, make sure that you have a valid, government issued photo ID. Accepted IDs include:
Driver's license
State ID
Passport
Military ID
You will need this ID to check in before the exam. You will also need to keep it on you during the exam because if you need to take a break for any reason, you'll have to show your ID to get back into the exam room.
Aside from your ID, leave everything else at home or in your car. Cellphones, electronics, study materials, and all other personal items are strictly prohibited and will be cause for removal if you are found to have them.
You also will not be able to talk during the exam. Test administrators are not allowed to answer your questions after they have finished giving verbal instructions at the beginning. Talking while the exam is in progress is considered disruptive behavior and could cause you to be removed from the exam room.
What I Will Be Tested On in the National Esthetician Theory Exam?
The National Esthetician Theory exam is split into a Scientific Concepts section and a Skin Care and Services section. Below, you'll find an outline of what you'll be tested on in each section:
Scientific Concepts – 35%
Your knowledge of infection control procedures
Your knowledge of safety procedures and guidelines related to the handling of chemicals, blood exposure, and standard precautions
Your ability to understand and recognize skin disorders and diseases
Your ability to understand the function and composition of abnormal hair growth
Your knowledge of basic chemistry as it relates to basic functions as well as acidity and alkalinity
Skin Care and Services – 65%
Client consultation and documentation
Knowledge of client protection
Skin analysis
Knowledge of contraindications for skin services
Treatment protocol
Cleansing procedures
Steaming procedures
Exfoliation procedures
Basic massage movements
Methods of extraction
Mask functions and applications
Conclusion of facial services
Use of electrical equipment used in skin services
An understanding of makeup as it relates to product selection, application, and safety
Basic knowledge of facial services, body treatments, eyelash and eyebrow services, and hair removal methods and procedures
What Is the Minimum Passing Score to Get Licensed?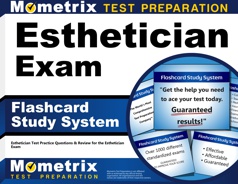 Esthetician Flashcards. Proven Esthetician test flashcards raise your score on the Esthetician test. Guaranteed.
At the moment, the exam is required in 31 states, but the scores are accepted across the country. Even where it is not required, having the license is still an advantage in your career. Where it is required, each state sets its own minimum passing standards so you need to check with the licensing board in the state where you plan to work to find out exactly how well you need to do to get licensed.
With that said, many states set their minimum passing score at or around 70%. Moreover, if you take the exam in one state but then decide you want to move to a different state to work, you will likely be able to transfer your results. As long as your score meets the minimum standard in the state you move to, it shouldn't be a problem.
How Long Should I Spend Studying for the National Esthetician Theory Exam?
This is a content driven exam with a lot of very specific, detailed information included. Even though you might have encountered most of the material in your training or on the job, you should still spend at least two weeks reviewing everything to make sure it's all fresh in your memory.
A great tool to help you do that is the Mometrix Study Guide. Crafted by a team of experts, this guide contains a comprehensive yet easy-to-understand overview of all the material covered in the exam. You'll have everything you need all in one convenient book. You'll also get study tips and proven test-taking strategies that will improve your performance on test day.
For even better results, make sure to get the Mometrix Flashcards as well. You'll get an additional opportunity to review the material and the highly portable flashcard format means you can take them with you anywhere to study whenever you have a free moment.