Are you a registered nurse who has an interest in diagnosing psychiatric disorders in patients? If so, you'll need to take the Psychiatric-Mental Health Nurse Practitioner certification in order to meet your goals. Getting there will require lots of study, and you'll need strong study tools like those provided by Mometrix, a leader in creating comprehensive study guides on topics like this one. But first, let's take a look at what you'll need to take the test, and what you can expect.
Degree requirements to take the test
Hold a current, valid RN license in the United State or a legally recognized equivalent from another country
Hold a Masters, postgraduate, or PhD degree from a psychiatric-mental health nurse practitioner program accredited by one of two groups — the Commission on Collegiate Nursing Education (CCNE) or the Accreditation Commission for Education in Nursing (ACEN)
Educational requirements to take the test
Candidates must have taken graduate level courses in advanced physiology/pathophysiology, advanced health assessment, and advanced pharmacology; with content in health promotion and/or maintenance, and differential diagnosis and disease management. Additionally, candidates are required to have clinical training in at least two psychotherapeutic treatment methods.
Who provides the certification
The American Nurses Credentialing Center (ANCC) provides the accreditation.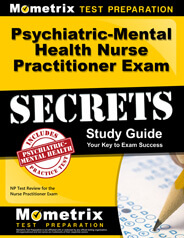 Prepare with our Family Psychiatric & Mental Health Nurse Practitioner Study Guide and Practice Questions. Print or eBook. Guaranteed to raise your score. Get started today!
Taking the test
The test is 200 total questions — 175 are scored, 25 are not. Candidates are tested on three areas of practice, called domains, and they are:
Foundations of advanced practice nursing (29 percent)
Professional role and policy (40 percent)
Independent practice competencies (31 percent)
In the Foundations of advanced practice nursing portion of the test, you'll be tested on knowledge and skills assessment in six areas — Advanced Pathophysiology, Neurobiology, and Neuroanatomy; Advanced Pharmacology and Psychopharmacology; Advanced Health Assessment; Epidemiology/Risk Analysis; Patient-Centered Care; and Psychotherapy.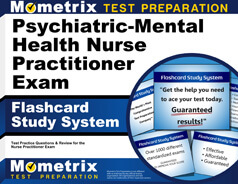 Family Psychiatric & Mental Health Nurse Practitioner Flashcards. Proven test flashcards raise your score on the Family Psychiatric & Mental Health Nurse Practitioner test. Guaranteed.
The Professional role and policy section tests knowledge and skills in seven sections — Leadership; Quality Improvement and Safety; Practice Inquiry; Health Policy and Advocacy; Technology and Information Literacy; Health Delivery System; Ethics, Legalities; and Scope and Standards.
For the indepent practice competencies, there are three areas that test knowledge and skills — Health Promotion and Disease Prevention, Advanced Psychiatric and Mental Health Assessment, and Disorder and Symptom Treatment/Management.
The test is graded on a pass/fail basis. Candidates have to meet a minimum score in order to pass the test, and that minimum scale score has been set at 350.
You'll spend four hours at the testing center. The test takes 3.5 hours, with another 30 minutes set aside for check-in, instructions, and a practice session.
Psychiatric -- Mental Health Nurse Practitioner Exam Prep
Psychiatric - Mental Health Nurse Practitioner (Exam Prep)
FAQ
Q
What does it cost to take the test?
A
There are different fees. ANCC offers discounts to members of the following organizations:
American Psychiatric Nurses Association ($282)
American Association of Nurse Practitioners student member ($290)
American Nurse Association ($295)
American Association of Nurse Practitioners ($340)
International Society of Psychiatric-Mental Health Nurses ($340)
If you don't belong to any of those groups, it costs $395 to take the test.
Q
How do I register to take the tests?
A
You need an authorization from the ANCC to take the test. Once you get it, you have 90 days to schedule an appointment to take the test at one of the hundreds of test centers across the United States.
You can register, to take the test through the ANCC online website.
Q
What should I expect the day of the test?
A
Make sure to bring your government ID and your test confirmation letter. When checking in, any accessory --- eyeglasses, jewelry, electronic devices – will be inspected to search for any sort of camera device that could be used to copy portions of the exam. All eyeglasses could be checked at check-in and after breaks. Wedding rings and engagement bands are the only jewelry permitted in the testing room. All books, paper, calculators, tissues, food, drink, water, notes, cell phone, or personal electronics are prohibited from being taken into the exam room. Use of cell phones or other electronic devices is prohibited.
Q
When will I get my test results?
A
You'll get the results as soon as you've completed the exam. If you pass the test, certification becomes effective immediately.
Q
What If I need to withdraw?
A
You can withdraw from the test as long as you do so within the 90-day eligibility period. You can withdraw by contacting your testing center, writing the ANCC or sending an email to the American Nurses Association.
A
Yes. If you fail the test you can retake it after a 60-day waiting period, and you can retake it up to three times in 12 months. The retest fee is $270 each time you retake the test.
Q
How long does the certification last?
A
The certification lasts five years and can be renewed.
True, there's a lot to go through here, and it doesn't even include all of the study needed to pass the exam. That's where Mometrix can help, because it has developed number of tools that can help you study for the exam.
It's comprehensive study guide had been researched by a team of professionals with years of experience helping students prepare for exams just like this one. The guide provides specifics on how to tackle the questions you'll be asked, and if you're stumped, you can ask one of our experts for help via a useful email address.
Mometrix's large, easy-to-read flashcards help you learn through repetition, and the questions cover every content area of the exam. Not only that, the cards make it easy for a friend or relative to help quiz you on the questions you'll need to know in order to pass the test and become a Psychiatric-Mental Health Nurse Practitioner.