If you happen to be an aspiring Art teacher, the concept of a standardized test geared toward your particular subject may come as a surprise. After all, art is one of the most intuitive subjects there is. The idea of releasing a standardized test aimed toward Art teachers—specifically for gauging their preparedness to teach, no less—can easily sound counter intuitive.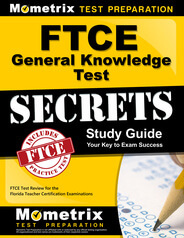 Prepare with our FTCE Study Guide and Practice Questions. Print or eBook. Guaranteed to raise your score. Get started today!
However, the FTCE indeed offers a subtest specifically geared toward Art teachers for grades K through 12. If you're looking to teach Art in Florida, you will have to take and pass this test in order to receive the proper certification. To help you earn the best possible score, we at Mometrix Test Preparation have put together an FTCE Subject #1 practice test to give you an idea of what to expect come test day.
The FTCE subject practice questions will be influenced by the following subjects featured on the full exam:
Connections Between Visual Arts, Other Disciplines, and Real-world Applications
Processes of Drawing
Assessment and Evaluation in Art Education
Processes of Painting
Equity, Fairness, and Diversity in Art Education
Processes of Sculpture
Research, Professional Organizations, and Journals
Processes of Printmaking


FTCE Flashcards. Proven FTCE test flashcards raise your score on the FTCE test. Guaranteed.

Major Theories of Learning in Art
Processes of Ceramics
Aesthetic Philosophies and Theories
Processes of Fine Crafts
Art Criticism Processes
Processes of Graphic Design
Social, Cultural, and Historical Influences
Processes of Photography
Art Styles, Developments, and Movements
Computer Technology and Processes in Art
Knowledge of Major Artists and Their works
The Sources for Forming Ideas in Art
Equipment Maintenance, Hazardous Substances, and Safety Procedures
We've conducted as much research and careful study as possible to ensure this FTCE subject practice test gives you a full glimpse of the real FTCE Art exam. We encourage you to use this practice exam in conjunction with our study guide for maximum effectiveness.
FTCE Art K-12 Practice Test

Click Here for FTCE Practice Test