Florida educators who want to teach business in grades 6 to 12 must pass the Florida Teacher's Certification Examination (FTCE) Business Education 6-12 exam. It's a test that ensures teachers have the basic business knowledge needed to business concepts to students. These teachers are well versed in several knowledge areas that include personal finance, business law, and career development. What's on the test? What are the best study tools you can get to help you prepare? We have the answers.
How many questions are on the FTCE Business Education 6-12 exam?
There are 120 multiple-choice questions on this test, which is taken on a computer.
What is the test time limit?
Candidates must finish the test in 2 hours and 30 minutes.
What's the fee to take the exam?
Candidates pay a $150 test fee. Anyone who needs to retake the exam must pay an additional $150 fee.
What's on the FTCE Business Education 6-12 exam?
The exam includes three types of items — direct questions, sentence completion and various scenarios. The test contains nine broad knowledge areas. Each category, except Information Technology, contains 10 percent of the exam's questions.
Information technology questions comprise 15 percent of the exam. This section tests candidates on hardware and software troubleshooting; entry-level coding practices; emerging technology and device characteristics; techniques in touch keyboarding, and more.
Business communications tests the ability to correctly use standard grammar and punctuation; written, verbal and nonverbal communication skills; communication skills (internal and external); and business document standard formats.
Accounting and personal finance asks candidates to show knowledge in accounting concepts, principles, and procedures; financial data and statements interpretation; the ability to make informed money management and credit decisions; and financial services and products evaluation.
Business management and administrative procedures includes management theories, styles, functions, and procedures application; business organizational structures and management analysis; human resources and office procedure application; and information technology security, privacy, and risk management policies implementation.
Entrepreneurship and marketing includes business ownership types; entrepreneurship characteristics; profitable business strategies; and marketing strategy application.
Business law and ethics tests a candidate's knowledge of the legal process and procedures; the characteristics of various types of law, such as criminal and property; the difference between jurisdictions; business and ethics, and more.
Foundations, teaching methods, and professional development tests curriculum development and planning strategies as it relates to diverse learners; tools and instructional resource materials evaluation; and stakeholder partnership strategies.
International business examines a candidate's knowledge of the global business environment and the factors that affect it, including economic factors, culture, and political considerations.
Career development includes understanding workplace trends.
Where can I take the test?
The state of Florida uses a third-party testing company that has locations throughout the state and across the country. 
What is the passing score for the exam?
Candidates must achieve a scaled score of at least 200. When candidates complete the exam, they'll receive an unofficial pass/fail grade. Official scores will be mailed to candidates within four weeks of their test date. 
It's test day. When should I arrive at the test center?
You'll want to arrive at the test center at least 30 minutes before your exam time. Late arrivals may not be able to take the test and risk losing their test fees. 
Will I need to bring identification to the test center?
Yes. You'll need to bring a primary form of identification, such as a valid government-issued ID. You'll also need a secondary form of identification that has your photo or signature. Acceptable identification includes a student or work ID, or a social security card.
Are personal items permitted in the test room?
No.  The testing center has strict guidelines governing personal items. Electronic devices and mobile phones are strictly prohibited, as are dictionaries, purses, wallets and more. It's best to consult the complete list of prohibited items.  
I need the best study tools I can get. What do you suggest?
The Mometrix study tools can help you prepare for the FTCE Business Education 6-12 exam. These tools will lead you through exam areas that can stump test takers and show you how to look for clues to the right answers. Our study guide and flashcards have been written by professionals in the test research field, so you're getting the best expertise possible. These are the study tools you need.
That's why we've carefully constructed an FTCE Subject #51 practice test meant to closely mirror what you'd find on the real FTCE Business test. Our FTCE subject practice test comes from careful research and observation of the real thing, meaning you'll gain a highly accurate picture of the full exam and know exactly what to expect.
Our FTCE subject practice questions cover such subjects as
Career Development
Information Technology
International Business
Business Communications
Foundations, Teaching Methods, and Professional Development
Accounting and Personal Finance
Business Law and Ethics
Entrepreneurship and Marketing
Business Management and Administrative Procedures
This practice exam is entirely free to you. We want to give you the best possible chance at success so you can move on to starting your professional career of guiding others into the professional world.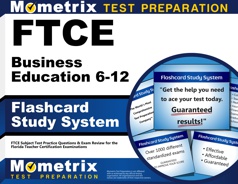 FTCE Business Education 6-12 Flashcards. Proven FTCE Business Education 6-12 test flashcards raise your score on the FTCE Business Education 6-12 test. Guaranteed.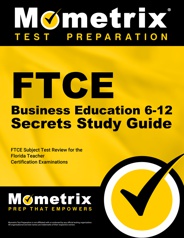 Prepare with our FTCE Business Education 6-12 Study Guide and Practice Questions. Print or eBook. Guaranteed to raise your score. Get started today!