Drama class is an elective often offered to junior high and high school students. Drama is a fun and productive class that allows students to show off their creativity, learn more about the structure of plays, work with others and present realistic characters.
As a result, students often feel more comfortable performing in front of others – a useful skill they will no doubt need in the real world once they graduate.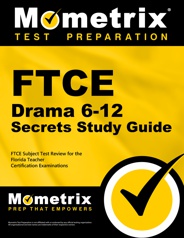 Prepare with our FTCE Drama 6-12 Study Guide and Practice Questions. Print or eBook. Guaranteed to raise your score. Get started today!
Florida requires drama teachers to pass the FTCE Drama 6–12 exam before teaching in the classroom. Do you have what it takes to educate future actors and actresses on the basics of performing arts?
The FTCE Drama 6–12 test fee is $150. You will be required to answer 120 multiple-choice questions within two hours and 30 minutes. A scaled score of 200 or more is considered passing. You can find out right after the test if you did indeed pass, but it will take four weeks for you to receive your official score.
As you would expect, knowledge of theater production and design (25%) and knowledge of acting (20%) make up a large portion of this test. You will also be tested on six other competencies: creative dramatics, dramatic literature and criticism, theater history, directing, playwriting and career opportunities.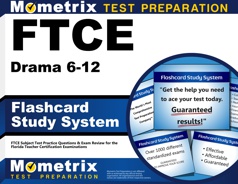 FTCE Drama 6-12 Flashcards. Proven FTCE Drama 6-12 test flashcards raise your score on the FTCE Drama 6-12 test. Guaranteed.
Within these competencies, there are many subjects that the test will cover. You should be prepared to answer questions about voice production, actor training, stage movement, characterization, improvisation, set construction, safety, lighting, sound, stage design, makeup, costume design, genres, theater styles, literature, theater history and major developments in musical theater. Other topics include script selection, production rights, stage techniques, casting, rehearsals, legal responsibilities, education and careers.
As a drama teacher, you're no stranger to rehearsals – and in a way, that's what you'll have to do in order to succeed on this test. During rehearsals, you practice your lines, and you can do the same for the test.
Take the FTCE Drama 6–12 practice test and get a feel for the types of questions you can expect on the test. See where your weaknesses lie and focus on strengthening your knowledge in these areas. Mometrix has created a study guide to help reinforce your knowledge so you don't "forget your lines" on test day.