The Elementary Education K-6 exam is one of the Florida Teacher Certification Examinations (FTCE) that candidates will need to take in order to become a licensed teacher in the state of Florida. It is a comprehensive exam spanning the four core subjects that make up an elementary education: language arts and reading, social science, science, and math.
How Much Does the FTCE Elementary Education K-6 Exam Cost?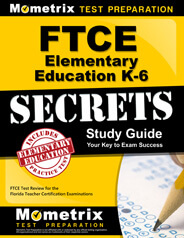 Prepare with our FTCE Elementary Education K-6 Study Guide and Practice Questions. Print or eBook. Guaranteed to raise your score. Get started today!
The total price you pay depends on how you schedule it. Here is a basic fee breakdown:
$37.50 per subtest if you schedule them in four separate sessions (meaning $150 total for all four)
$75 for two subtests if you schedule two subtests for a single session ($150 total)
$112.50 for three or $150 for four subtests if you schedule them all in a single session.
As you can see, the more subtests you take in a single session, the more money you can save. However, if you don't pass a subtest, you will have to reattempt it and pay the full exam fee for that next attempt. So if you don't feel 100% confident that you can pass all of them if you do them back to back in one session, it could be cheaper in the long run to space them out and avoid the need to pay extra fees for additional attempts.
How Long Will the Test Take?
Be prepared to spend a little over five hours at the testing center if you choose to take all of the subtests in a single session. That means rest well, eat a nourishing breakfast before you arrive, and bring a snack that you can eat during your break to recharge. While at the testing center, your time will be spent as follows:
30 minutes checking in (this needs to be done before the actual appointment time.)
1 hour and 5 minutes for the language arts and reading subtest
1 hour and 5 minutes for the social science subtest
15 minutes scheduled break
1 hour and 10 minutes for the science subtest
1 hour and 10 minutes for the math subtest
What Will Be on the Test?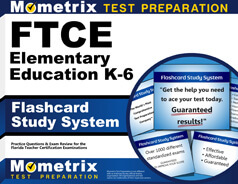 FTCE Elementary Education K-6 Flashcards. Proven FTCE Elementary Education K-6 test flashcards raise your score on the FTCE Elementary Education K-6 test. Guaranteed.
There will be a total of 220 multiple choice questions across the four subtests. Here's a quick breakdown of each one:
Language Arts and Reading – 60 questions

Reading process
Literary analysis and genres
Language and the writing process
Literacy instruction and assessments
Communication and media literacy

Social Sciences – 55 questions

Effective instructional practices and assessment of the social sciences
Time, continuity, and change (history)
People, places, and environment (geography)
Government and civics
Production, distribution, and consumption (economics)

Science – 55 questions

Effective science instruction
Nature of science
Physical sciences
Earth and space
Life science

Math – 50 questions

Student thinking and instructional practices
Operations, algebraic thinking, counting, and numbers in base ten
Fractions, ratios, and integers
Measurement, data, and statistics
Geometric concepts
What Is the Minimum Score Needed to Pass the FTCE Elementary Education K-6 Exam?
There is no cumulative score needed. Rather, you need to pass each individual subtest in order to successfully earn your elementary education k-6 certification. In order to pass a subtest, you need to receive a scaled score of at least 200. This represents roughly 75% of questions answered correctly. That percentage is not a hard rule and the exact number of correct answers needed to achieve 200 will shift year over year. However, if you set yourself a target of somewhere between 75% and 80%, you should be able to get at least a 200.
How Should I Prepare for the FTCE Elementary Education K-6 Exam?
Given the comprehensive nature of this exam, it is very important that you devote enough time to studying for it. You will want to pay special attention to your weaker subjects but don't forget to brush up on your stronger subjects, too. Above all, make sure you are working on your fundamental test-taking skills as well. That includes speed, accuracy, memory, and recall. It's not enough to just know the material. You have to be able to recall it and apply it quickly and accurately under strict time limits.
If that sounds like a lot to juggle, don't worry. With the help of the Mometrix Study Guide and Mometrix Flashcards, you'll be able to both review all the core concepts you need to know and hone your test-taking skills so that you show up on exam day confident and ready to master this test!