Younger students in early grades learn the basics of writing. As they progress through their school career, they learn increasingly challenging concepts. In Florida, teachers take the Florida Teacher Certification Examination (FTCE) English 6-12 test. The exam measures competency in grades six through high school in several areas and shows teacher have the skills to help students with more advanced learnings. This guide provides an overview of what's on the exam and offers some excellent study materials to help you prepare.
How many questions are on the FTCE English 6-12 exam?
There are about 80 multiple-choice questions and one original essay on this computer-based exam.
How long do I have to complete the exam?
The total exam time is 2 hours and 30 minutes. That includes 90 minutes for the multiple-choice questions and another 60 minutes for the essay.  You'll be at the test center longer, though.
When should I report to the test center?
Make sure to arrive at least 30 minutes early. You don't want to be late since late-arriving candidates may not be able to take the exam. Late arrivals also risk losing their test fees.
What is the test's passing score?
On the written portion, candidates must achieve a minimum scaled score of 200 and at least eight of 12 on the written portion. Candidates must pass both sections of the exam
When will I be able to see my FTCE English 6-12 exam test results?
For the written part of the exam, candidates will receive an unofficial pass-fail grade Complete score reports and the results of the written essay will be available about a month after exam completion.
Is there a fee associated with the test?
Yes. Candidates pay a $150 fee. Additional fees apply for candidates who must retake the exam.
Where do we go to take the test?
An independent company delivers the Florida Teacher Certification Examinations. The company has offices throughout the state and country. You can check on the exam website for the location nearest to you,
What's on the FTCE English 6-12 exam?
The exam as five categories plus the writing section.
Knowledge of the effective use of the English language at the postsecondary level. Topics include grammar, capitalization, punctuation and other English grammar and conventions usage; language skills assessment; and prefixes, root words, idioms, and figures of speech.
Knowledge of effective writing skills. Topics include types of writing, like persuasive or argumentative, and the ability to differentiate among them; logical reasoning; using technology to enhance writing; writing skills assessment; and collaborative learning and other strategies to teach writing skills.
Knowledge of the literacy process across genres. Topics include text analysis in several areas including imagery and diction; text analysis and meaning; words, phrases, paragraphs and their meaning in text; text structure like compare and contrast and its relationship to comprehension; and assessing student learning.
Knowledge of a wide range of fiction, nonfiction, and informational texts. Candidates could see questions about how to differentiate between expository, narrative, and other writing forms; writing organization; the ability to evaluate drama, biography, and other writing genres; strategies to teach fiction, nonfiction, and informational text; and historical and contemporary authors.
Knowledge of critical responses to media. Topics include listening, viewing, and speaking techniques, and media evaluation in intent, meaning, and effect.
The writing section tests the candidate's ability to analyze a literary section, develop a thesis statement, writing style, and more.
On test day, what identification will I need to show at the test center?
You'll need to show two pieces of identification — a driver's license, passport, or another form of government-issued ID, and an ID that contains a photo or a signature. The test rules have all the specifics.
What do I do with my cell phone and other personal items?
Candidates must place all personal items in a locker at the test center. Candidates are not allowed to bring personal items into the test room. The test rules have a complete list of banned items.
I need to study for this exam. What are the best materials to help me prepare?
Mometrix has the best study materials on the market. Education professionals develop our test materials, and since they know these exams so well, they can offer the best test insights and study methods. Our study guide contains a specific in-depth study guide, practice test questions, and dozens of other tips designed to prepare you for this exam. Our flashcards cover all the major content categories, in-depth answers to questions, and much more. If you're taking the FTCE English 6-12 exam, these are the materials you need.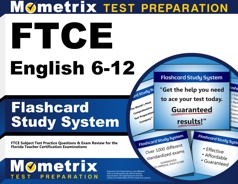 FTCE English 6-12 Flashcards. Proven FTCE English 6-12 test flashcards raise your score on the FTCE English 6-12 test. Guaranteed.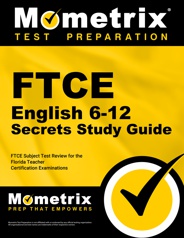 Prepare with our FTCE English 6-12 Study Guide and Practice Questions. Print or eBook. Guaranteed to raise your score. Get started today!