The Exceptional Student Education K-12 exam is one of 41 Florida Teacher Certification Examinations (FTCE) Subject Area Examinations (SAE). This examination is designed to test the competencies of prospective teachers by evaluating their mastery of the content and pedagogical knowledge necessary to effectively instruct students in the state of Florida. Teachers wishing to be certified in Exceptional Student Education K-12 are required to pass this examination to demonstrate their comprehension of the subject area in order to receive certification.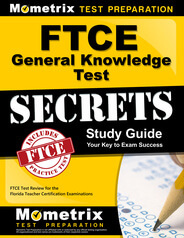 Prepare with our FTCE Study Guide and Practice Questions. Print or eBook. Guaranteed to raise your score. Get started today!
The Exceptional Student Education K-12 test is a computer-based test (CBT) that consists of approximately 120 multiple-choice questions with response options of A, B, C or D. There are four types of questions: sentence completion, direct question, command and scenario. You will have two and a half hours to complete the examination. Questions on the Exceptional Student Education K-12 test will cover your knowledge of:
Foundations of exceptional student education
Assessment and evaluation
Instructional Practices in exceptional student education
Assessing, designing and implementing positive behavioral supports
Language development, reading and communication skills
Skills related to teaching interpersonal interactions and participation
The transition process
Upon successfully passing the Exceptional Student Education K-12 exam, you will have demonstrated mastery of these questions aligned with the practices and standards set forth by the state. For sample questions in preparation of the examination, take our Exceptional Student Education K-12 Subject Practice Test.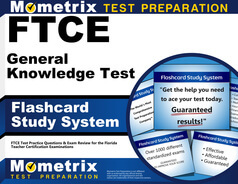 FTCE Flashcards. Proven FTCE test flashcards raise your score on the FTCE test. Guaranteed.
Scoring
In order to receive a passing score on the Exceptional Student Education K-12 exam, you will be required to achieve a scaled score of at least 200. Unofficial results are available immediately after completion of the exam, with official score reports being sent about 4 weeks following examination.
Registration Information
Registration for the Exceptional Student Education K-12 test is by appointment, year round. When you go to register for the exam, you will be given available dates to choose from for your selected testing location. Testing locations are available throughout the state of Florida and nationwide. The registration cost for the first attempt is $200. After the first attempt, it is $220 for a retake. Upon registration, you agree to adhere to all testing rules and policies.
FTCE Exceptional Student Education Practice Test

Click Here for FTCE Practice Test