Elementary school teachers must know a wide range of subjects in order to teach young children. As a result, they must tested on their knowledge before working in a classroom environment. In order to start your career as a teacher in Florida, be prepared to take the FTCE General Knowledge test.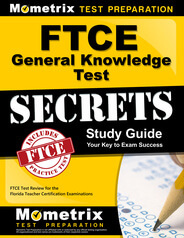 Prepare with our FTCE Study Guide and Practice Questions. Print or eBook. Guaranteed to raise your score. Get started today!
The FTCE General Knowledge exam consists of four separate subtests: essay, English language skills, reading and mathematics. The essay subtest requires that you write one essay in 50 minutes. For the English language skills portion, you are given 40 minutes to complete 40 multiple-choice questions.
You are given 55 minutes to complete the 40 multiple-choice questions in the reading subtest. For the math subtest you must complete 45 multiple-choice questions in one hour and 40 minutes. You can take all four tests at the same time for $130.
You must receive eight out of 12 points on the essay in order to pass. On the other three tests, you must receive a score of at least 200 on each to pass. You must pass all four subtests in order to move forward.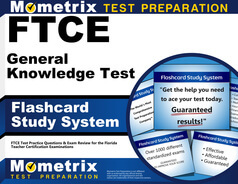 FTCE Flashcards. Proven FTCE test flashcards raise your score on the FTCE test. Guaranteed.
On the essay portion, you will be graded on your ability to formulate a valid thesis, use college-level English, use a variety of sentence patterns, organize ideas and use details appropriately. For the English language skills portion, you will tested on three competencies: language structure, vocabulary application and standard English conventions.
You will assessed on your knowledge of context, diction, sentence structures, parts of speech, spelling, punctuation and capitalization.
For the reading subtest, you will be tested on three competencies: key ideas and details in text selections, craft and structure of text selections, and information and ideas based on text selections. You must be able find inferences, summarize texts, determine cause and effect, analyze organization, and evaluate content and claims.
The math portion will assess your knowledge of four key areas: number sense and operations, geometry and measurement, algebraic thinking, and probability and statistics. You will be tested on your knowledge of order of operations, classification of 2D and 3D figures, ratios, linear and quadratic expressions, slopes and concepts related to statistics.
While there is so much to learn and understand in order to pass the exam, it's easy to feel overwhelmed. Feel more relaxed by taking the FTCE General Knowledge practice test. This study tool from the Mometrix Test Prep Team can help prepare you for the real thing. Plus, it is totally free, so why not give it a try? You have nothing to lose and so much to gain in terms of more knowledge and higher test scores.

Click Here for FTCE Practice Test