Teaching language skills is difficult no matter which grade you teach. Younger children are just learning how to read and write, while middle school students are delving into more advanced English skills and focusing on reading comprehension and essay writing skills.
In order to teach English to Florida students in the middle grades – grades 5–9 – you will need to take the FTCE Middle Grades English 5–9 test.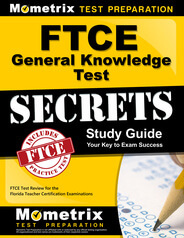 Prepare with our FTCE Study Guide and Practice Questions. Print or eBook. Guaranteed to raise your score. Get started today!
The FTCE Middle Grades English 5–9 exam is different from other FTCE exams in that it is split into two parts. The multiple-choice section has 80 questions, while the essay portion requires you to write an essay. You are given one hour and 30 minutes for the multiple-choice test and one hour for the essay.
Passing scores are 200 for the multiple-choice test and eight out of 12 points on the essay. You must register for both sections at the same time, and pass both in order to be considered as a teacher.
The multiple-choice section requires you to understand six competencies: characteristics of students, evidence-based research and best practices, language arts content, pedagogical content, use of various assessments, and application of the collaborative processes of reading and writing.
FTCE English 5-9 Practice Quiz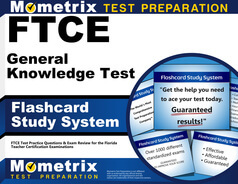 FTCE Flashcards. Proven FTCE test flashcards raise your score on the FTCE test. Guaranteed.
Within these competencies, you must know various skills, including cognitive development, social and emotional development, state standards at each grade level, application of evidence-based research, use of appropriate materials, multicultural experiences, components of text complexity, various genres, the writing process, multimedia components, analysis of media, standard English conventions, teaching the research and writing processes, assessment tools, instructional practices, text structures and use of context.
For the essay portion, you will be graded on your ability to analyze a literary selection and respond critically through writing. You must analyze a thesis statement and organize your ideas around it using details. You must be able to use advanced English and an appropriate style.
Gain the knowledge you need to succeed on your first try by taking the FTCE Middle Grades English 5–9 practice test. This handy tool was developed by the Mometrix Test Prep Team to aid in your studying. You may also want to consider the accompanying study guide to keep you organized while you study and help improve your score.

Click Here for FTCE Practice Test