Florida demands the best from its teachers. Nowhere is that visible more than in the rigorous standards its educators must meet in order to teach in the state. The Florida Teacher Certification Exam (FTCE) Middle Grades English 5-9 Subject is one example of those high standards.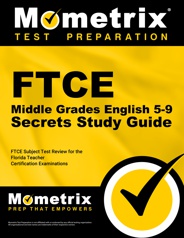 Prepare with our FTCE Middle Grades English 5-9 Study Guide and Practice Questions. Print or eBook. Guaranteed to raise your score. Get started today!
How Much Does the FTCE Middle Grades English 5-9 Exam Cost?
For your first attempt, you'll pay a flat exam fee of $150 and you'll need to complete both of the sections of the exam. If you don't pass, you can retake only the section you didn't pass. In which case, you'll need to pay $75. If you need to retake both sections, you'll have to pay $150.
Avoid these additional retake fees by registering for the exam far enough in advance to leave yourself with plenty of time to study, take practice tests, and generally prepare yourself for the demands of this test. While the test is available year-round, it's advisable to register at least 4 to 6 weeks in advance.
What Will I Be Tested On?
There will be two separate sections on this exam: a multiple-choice section and a written performance section. The multiple-choice section will include 80 questions plus a few unscored questions. Here is a quick breakdown of what you'll be expected to know in that section:
Making instructional decisions for teaching language arts based on characteristics of students – 9-10 scored questions
Teaching language arts through the use of evidence-based research and an effective set of best practices – 11-12 scored questions
Language Arts – 19-20 scored questions
Pedagogical knowledge as it applies to teaching language arts – 19-20 scored questions
Driving instructional decisions using various assessments and data measures – 11-12 scored questions
Collaborative processes of reading and writing – 9-10 scored questions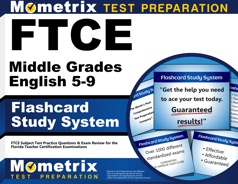 FTCE Middle Grades English 5-9 Flashcards. Proven FTCE test flashcards raise your score on the FTCE Middle Grades English 5-9 test. Guaranteed.
The written performance section will require writing an essay that demonstrates your ability to think and respond critically to a prompt based on the analysis of a literary selection. Your score will be based on how well you met the following criteria:
Developed a well-focused and effective thesis statement.
Demonstrates ability to develop logical, analytical, and thoughtful ideas.
Effectively uses relevant and concrete evidence.
Demonstrates a strong command of the syntax and conventions of the English language
Ideas are well organized and flow in a logical order.
Ability to select precise and appropriate vocabulary.
How Is the FTCE Middle Grades English 5-9 Exam Scored?
The multiple-choice section is given a scaled score from 100 to 300. You need to get a minimum of 200 in order to pass it. The written section is given a score from 6 to 12. You will need at least an 8 on this section to pass. In order to complete the requirement, you need to meet the minimum passing standards on both sections separately. So, if you fail one section, you will need to retake it until you get a passing score.
You'll find out your unofficial pass or no-pass status for the first section immediately after you finish the test, but it will take about 4 weeks before you receive an official score report that includes your score for the second section.
If you finish the test and don't feel very confident about your performance on the second section, you can go ahead and schedule a retake without knowing the score. Then, when you get your official score report, you can cancel the appointment if you did actually pass. As long as you cancel more than 24 hours before your scheduled appointment, you can get a full refund.
What Is the Best Way to Prepare for the FTCE Middle Grades English 5-9 Exam?
This is a two-part exam that will measure a range of skills as applied to English. You'll be tested on fundamental reading and writing skills as well as your ability to take pedagogical knowledge and standards and apply them to your lessons.
The best way to hone all of those different knowledge and skill sets is through a comprehensive study plan that makes use of the best possible study aids. For example, the Mometrix Study Guide offers a complete review of all the essential material covered on the exam as well as practice questions and proven strategies for making sure you perform your very best on test day.
Combine that with the Mometrix Flashcards which will provide a more interactive and engaging way to review the material that is proven to help with memory and recall skills. The flashcards will also come with additional practice questions to further sharpen your test taking skills as it applies to this exam.