Teaching science can already be a tricky task. However, when you're teaching Middle Grades 5-9, the subject becomes all the more complex. It will be on you as the instructor to be well-versed in a wide range of sciences and convey each concept to your students in an easily digestible way. This is why the state of Florida requires all incoming teachers to take the FTCE—to gauge how ready they are to enter the professional world and the classroom.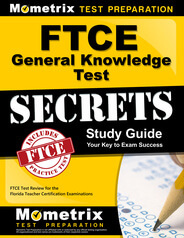 Prepare with our FTCE Study Guide and Practice Questions. Print or eBook. Guaranteed to raise your score. Get started today!
To help you prepare to the fullest extent, we've composed an FTCE Subject #4 practice test. Prior to putting the test together, we carefully researched the full FTCE so as to render our FTCE subject practice questions as accurate to what you'd find on the real test as possible.
Questions on the Middle Grades General Science 5-9 FTCE subject practice test will involve the following topics:
FTCE Middle Grades General Science Practice Test
We hope you will be able to incorporate this free resource into your study plan for the FTCE. To enhance your preparation for the full exam, we encourage you to also use the accompanying Middle Grades General Science 5-9 FTCE study guide.

Click Here for FTCE Practice Test