The Florida Teacher Certification Exams (FTCE) includes a wide range of tests required to become a teacher in the state of Florida. The Middle Grades General Science 5-9 exam is part of the required tests for candidates seeking to teach science at this grade level. You'll be tested on a wide range of scientific concepts as well as the best practices for teaching those concepts to students.
How Much Does the FTCE Middle Grades General Science 5-9 Exam Cost?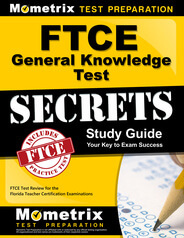 Prepare with our FTCE Study Guide and Practice Questions. Print or eBook. Guaranteed to raise your score. Get started today!
At the time of registration, you will have to pay an exam fee of $200. This covers the cost of scheduling your appointment, the exam itself, and the score report that is posted afterward. You won't be able to book an appointment until the fee is paid.
You should also know that seats are given on a first come, first serve basis so you need to register early to make sure you get the appointment that you want. Finally, if you require any special accommodations for a disability, make sure to talk with someone at the testing center when you register to make the necessary arrangements.
What Will I Be Expected to Know for the Exam?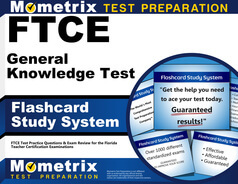 FTCE Flashcards. Proven FTCE test flashcards raise your score on the FTCE test. Guaranteed.
There will be 120 scored multiple choice questions. The actual number of questions may be a little more than that because they might include some unscored questions being considered for future versions of the exam. However, no matter what, all questions will be divided into the following content areas:
Conceptual and Quantitative Knowledge of the Structure and Behavior of Matter – 16-17 scored questions
Knowledge of the Earth and the Processes that Affect It – 15-16 scored questions
Knowledge of the Science Learning Environment – 6-7 scored questions
Conceptual and Quantitative Knowledge of Forces and Motion – 15-16 scored questions
Knowledge of the Effects of Physical and Biological Factors on the Environment – 11-12 scored questions
Knowledge of Space Science – 7-8 scored questions
Conceptual and Quantitative Knowledge of Energy and Its Effects – 14-15 scored questions
Knowledge of the Processes of Life – 16-17 scored questions
Knowledge of the Processes and Skills and Application of Scientific Inquiry – 15-16 scored questions
Within these content categories, you will get five types of questions:
Command questions where you need to select the best possible option—meaning more than one might seem correct but only one is the best possible choice.
Graphics questions where you need to examine and interpret a diagram and select the best response to the question based on that diagram.
Sentence completion questions where you need to choose the word or phrase that best completes the provided sentence.
Direct questions where you simply choose the best answer to the given question.
Scenario questions where you will need to analyze a situation, case study, or problem and then make a diagnosis, recommend a course of action, or answer a question based on that situation.
FTCE Middle Grades General Science Practice Test
When Will I Find Out If I Passed?
Immediately after taking the test, you will see your unofficial pass or fail status. A passing score is anything at or above 200 out of a maximum of 300. When you register, you'll be able to see the exact score report release date associated with the testing window you registered for. If you did not get a 220 or better, you can retake the test. However, you'll need to pay a slightly higher $220 retake fee and your next test date must be at least 31 days after the date of your previous attempt.
How Should I Study for This Exam?
This exam covers a wide range of topics which means that no one test taker will be an expert in every single content area measured by this exam. In other words, no matter who you are, you will need to spend some amount of time preparing for this exam. The right study tools can make all the difference.
You need study aids that not only discuss the science you need to know but do it in a way that is geared to the specific curriculum standards used in the state of Florida. For that, turn to the Mometrix Study Guide and Mometrix Flashcards. These tools have been crafted by a team of experts according to the specific criteria of the FTCE Middle Grades General Science 5-9 Exam.
You'll get a detailed yet easy to follow overview of all the subjects covered on the exam. Then, you'll get sample questions where you can practice applying that knowledge to the same kind of problems you'll need to deal with on test day. Finally, you can use the flashcards to squeeze in study time no matter how busy your schedule is. They are portable and easy to pull out whenever you find yourself standing in line, sitting on the bus, or on a break at work.
Click Here for FTCE Practice Test