Students in elementary grades have learned math basics, and now it's time to teach them more advanced concepts. Number operations. Algebra. Geometry. It takes a skilled educator to teach these subjects, and that's why the Florida Department of Education administers the Florida Teacher Certification Examination (FTCE) Middle Grades Mathematics 5-9 exam. Educators must pass this test in order to teach math at this level. This test covers several competencies, and this guide reviews what candidates can expect while taking the exam. It also provides information on some excellent study materials to help you prepare.
How many questions are on the test?
The FTCE Middle Grades Mathematics 5-9 exam contains about 75 questions. Candidates take the test on a computer.
How long will I be at the test center? What's the test time?
Candidates have 2 hours and 30 minutes to complete the exam. You'll be at the test center longer than that, though.
Why will I be at the test center longer?
Candidates need to arrive at least 30 minutes before their scheduled test time to complete various check-in procedures. Besides, you don't want to be late because if you are, you might not be able to take the test.
Since this is a math test, does that mean I can bring and use my own calculator?
No. The test center will provide a calculator to candidates for use during the exam.
What's the FTCE Middle Grades Mathematics 5-9 exam's minimum passing score?
Candidates must achieve a scaled score of at least 200 to pass the exam.
I've taken the test. When will I receive my results?
As soon as the test is over, candidates will receive an unofficial pass/fail grade. Full score reports will be available about one month after you've completed the exam.
How much do I have to pay to take the exam?
All candidates pay a $150 test fee. Any candidate who must retake the test will pay an additional $150 fee.
Where can I find the test center locations?
Candidates can perform an online search for the test center nearest to them.  The Florida Department of Education uses a private company, with offices across the state and county, to deliver the exam.
What's on the FTCE Middle Grades Mathematics 5-9?
The exam contains 10 competencies. Each of the competencies is listed below, followed by some of the topics covered in that section.
Problem-solving and reasoning skills. Math expressions and concepts, deductive and inductive reasoning.
Mathematical manipulatives and models and instructional technology. Tables, graphs, graphing calculators.,
Assessment in mathematics. Assess student learning and performance.
Connections among mathematical concepts. Errors in math, math misconceptions.
Number sense, operations, and proportionality. Expressing numbers in fractions, decimals, and other forms.
Foundations of algebra. Square roots, radicals and rational exponents, and linear equations.
Algebraic thinking. Linear and nonlinear functions, perpendicular and parallel lines, quadratic functions.
Data analysis, statistics, and probability. Data range and distribution, information and pattern interpretation, graphical representations of data sets.
Two-dimensional geometry. Angles; polygons; triangle; trigonometric ratios; parallelograms, rectangles and other quadrilaterals.
Measurement and spatial sense. Units of measure conversion, perimeter, circumference, three- dimensional figures.
It's test day. Will I have to show identification at the test center?
Yes. All candidates must show a piece of government-issued ID and a second piece of identification with a photo and signature. A driver's license is one example of a government-issued ID. 
What do I do with my cell phone when I'm at the test center?
A cell phone is considered a personal item and it's one of many items banned from the test room. Electronic devices and even some clothing items are also prohibited. Candidates must place all personal items in a locker at the test center. Check the test center rules for a complete list of banned items. 
Tests make me nervous, and I know I need to prepare. What are the best study materials I can get? 
The study materials from Mometrix are exactly what you need. We know that tests can be stressful, which is why we've created a cutting-edge study guide that not only focuses on the topics you'll see on the exam but also shows you how to approach test taking.  For example, nervousness is one of the biggest enemies of test-takers, and we'll show you how to tackle test anxiety. Also, Our flashcards are another valuable study tool that helps you study whenever you have just a few minutes. It's a great tool to get easy-to-understand explanations on major content categories. If you're taking the FTCE Middle Grades Mathematics 5-9 exam, these are the tools you need.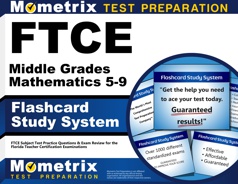 FTCE Middle Grades Mathematics 5-9 Flashcards. Proven FTCE test flashcards raise your score on the FTCE Middle Grades Mathematics 5-9 test. Guaranteed.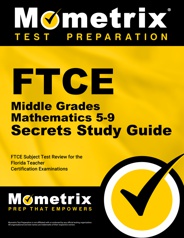 Prepare with our FTCE Middle Grades Mathematics 5-9 Study Guide and Practice Questions. Print or eBook. Guaranteed to raise your score. Get started today!