The Florida Teacher Certification Examinations (FTCE) Middle Grades Social Science 5-9 exam is a standardized test provided by the Florida Department of Education to determine those qualified to provide social science instruction to middle school students in grades five through nine in the state's public schools.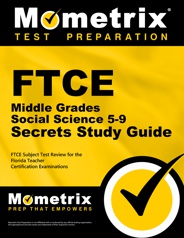 Prepare with our FTCE Middle Grades Social Science 5-9 Study Guide and Practice Questions. Print or eBook. Guaranteed to raise your score. Get started today!
The knowledge, abilities and skills assessed on the exam are based on pertinent educational standards in social science. The content is meant to represent the knowledge that teams of teachers, district-level educators and subject area specialists believe are most important for entry-level instructors.
How Do I Schedule an Appointment for the FTCE Middle Grades Social Science 5-9 Exam?
In order to take any FTCE exam, including the Middle Grades Social Science 5-9 exam, prospective participants will need to create an FTCE account online. After selecting the test, answering background questions and agreeing to testing policies, they will be able to schedule an exam appointment on a day and time and at a test site that works best for them.
Prospective participants have one year after registering to make their testing appointment, or else they will have to withdraw their registration and register again.
What Items Should I Bring to the FTCE Social Science for Middle Grades Exam?
Participants in the FTCE Middle Grades Social Science 5-9 exam are required to bring with them two valid forms of identification. At least one of these pieces of identification must be government-issued and must bear a participant's photograph and signature, such as a driver's license or passport. The secondary piece of identification must have either a photograph or a signature, such as a social security card or work ID.
There are also several items that are prohibited from the testing site and/or the testing room during the FTCE Social Science 5-9 exam. These include calculators, books of any kind, food and drink, wallets and purses, audio devices and weapons.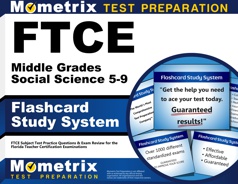 FTCE Middle Grades Social Science 5-9 Flashcards. Proven FTCE test flashcards raise your score on the FTCE Middle Grades Social Science 5-9 test. Guaranteed.
What Specific Content Appears on the FTCE's Exam for Middle Grades' Social Science?
The FTCE Middle Grades Social Science 5-9 exam consists of about 120 multiple-choice questions. It is a computer-based test and participants are given two hours and 30 minutes to complete the entire exam.
The specific content on the exam is divided into five distinct competencies. Each of these competencies make up a different percentage of the total test questions and each one includes a handful of more granular topics to be mastered.
Understanding of History (33 percent)

Historical events and how they connect through cause and effect
Analyzing primary source documents to glean historical perspectives
Cultural, political, economic, social and technological contributions made by worldwide civilizations

Understanding of Geography (25 percent)

Themes and elements that are essential to geography
Interpreting maps and other graphic representations and tools
Mental maps for organizing information about places and environments

Understanding of Civics and Government (25 percent)

Functions, structure and purposes of government
Major concepts, purposes and content of the U.S. Constitution and other historical articles
Contrasting and comparing the world's various political systems

Understanding of Economics (10 percent)

Analyzing the effects of scarcity on the choices governments and individuals make
Contrasting and comparing various economic systems
The role of economic markets in decisions affecting consumption, distribution and production

Understanding of Social Science Curriculums and Instruction (7 percent)

Interdisciplinary relationships between the social sciences
Technology, community and media resources for use in social science instruction
Social science content and how it can be integrated with other areas of a curriculum
What Score Is Needed to Pass the FTCE's Middle Grades Exam in Social Science and How Can I Achieve It?
Participants in the FTCE Middle Grades Social Science 5-9 exam must achieve a scaled score of at least 200 to pass.
Participants will receive an unofficial pass/non-pass indicator directly after ending their testing session.
Full score reports are posted directly to participants' FTCE online account are made available on Mondays after 10:00 p.m. on the predetermined score report date, within four weeks of the testing date.
During registration, participants in the exam may elect to have their scores sent to their specific institution or professional development certification program.
Those participants who do not receive a passing score must wait at least 31 days to retake their tests. There is no limit on the number of times someone can retake the exam.
The FTCE Middle Grades Social Science 5-9 exam covers such a wide base of fundamental knowledge for instruction on the topic so it's recommended that prospective participants leverage a two-pronged study strategy. By using a study guide to familiarize themselves with the wide base of information, then a set of study flashcards to memorize that information for best results on multiple-choice questions, they will be in a good position to pass the exam.
Both a proprietary study guide and a set of flashcards can be found through Mometrix Test Preparation.