The state of Florida requires its educators become certified if they want to teach in one of its public schools. The Prekindergarten/Primary PK-3 (053) test is one of those exams. It ensures that teachers have the skills and knowledge to succeed in the classroom. The test covers several areas, and this guide will help you understand what you'll face in the exam room.
When can I take the Prekindergarten/Primary PK-3 (053) test?
The test is available year-round, by appointment. Candidates will receive their unofficial scores as soon as they complete the exam, and official scores about a month after the test. Candidates can cancel their test for a full refund if they do so at least 24 hours prior to their test time.
What topics can I expect to find on the test?
The Prekindergarten/Primary PK–3 test consists of four subtests. You'll find the number of questions, and time allotted to complete each subtest, below. You can take some or all the subtests in one sitting, but you must pass all four subtests to pass the exam.
Subtest 1: Developmental Knowledge (531) has 60 multiple choice questions and has a test time of one hour, 10 minutes
Subtest 2: Language Arts and Reading (532) has 60 multiple questions and has a test time of one hour, 10 minutes
Subtest 3: Mathematics (533) has 50 multiple choice questions with a test time of one hour, 10 minutes
Subtest 4: Science (534) has 50 multiple choice questions with a test time of one hour
Each of the subtests measures seven competencies and skills and tests knowledge of:
Child growth, child development, and relationships with families and the community
The profession and foundations of early childhood (PreK–3) education
Developmentally appropriate practices
Developmentally appropriate curricula
Developmentally appropriate intervention strategies and resources available to meet the needs of all students
Diagnosis, assessment, and evaluation
Child guidance and classroom behavioral management
Candidates can expect to answer three types of questions. Candidates will be asked to examine a certain scenario and respond appropriately, answer multiple-choice questions, or complete a sentence with the appropriate answer.
What are the test fees?
It costs $150 to take all four tests the first time. The retake fees are as follows: a single subtest costs $37.50; two subtests cost $75; and three subtests cost $112.50.
What are the test day procedures?
Make sure to arrive at least 30 minutes before your test time. Any candidate who arrives late may not be able to take the exam and will forfeit all test fees. Please bring two forms of identification. One must be a government issued form of ID, and another a secondary form such as a student ID or social security card.
Candidates will be asked to put all personal items in a locker. Those items include cell phones and any other electronic devices, watches, purses and wallets.
This is my dream career. What materials can help me prepare?
Mometrix has the materials you need. Our study guide has been prepared by test-taking experts whose materials show candidates how they can prepare for the exam. The guide will also show you how to navigate difficult questions. Our simple and effective flashcards provide in-depth explanations to help you better understand test concepts. Combined, these are two study tools that can help you attain your dream career.
At Mometrix, we care about your success. Feel free to use this free study resource (alongside the Mometrix FTCE Prekindergarten/Primary PK-3 study guide) as you prepare for this important exam!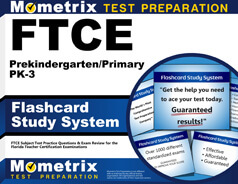 FTCE PreKindergarten/Primary PK-3 Flashcards. Proven FTCE test flashcards raise your score on the FTCE PreKindergarten/Primary PK-3 test. Guaranteed.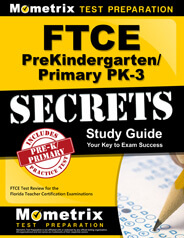 Prepare with our FTCE PreKindergarten/Primary PK-3 Study Guide and Practice Questions. Print or eBook. Guaranteed to raise your score. Get started today!